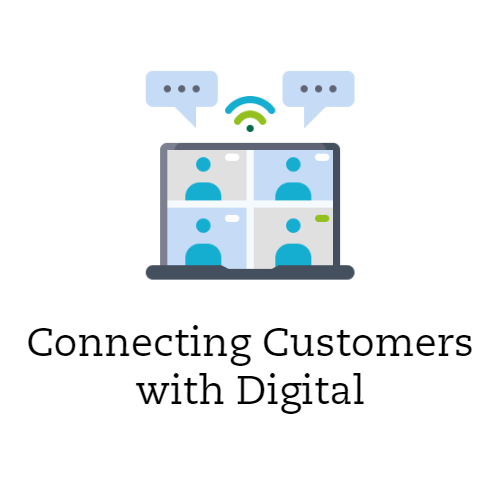 Connecting Customers with Digital: 25 April 24


Our Connecting Customers with Digital workshop, facilitated by The Institute's Academy experts, builds skills and capability to support customers with digital engagement, through using a coaching approach. Building customer confidence with digital will lead to greater self-sufficiency and overall satisfaction.
With many everyday transactions being automated, organisations are seeing a shift in channel usage, with a move away from the more traditional channels of voice and email to the likes of apps, self-serve and online portals. Customers want access to multiple channels and the way organisations and their people engage with customers digitally, is a key component of many businesses' strategies and plans.
However, our research highlights that some customers lack confidence using digital. Organisations need to ensure their people and teams have the capability and competence to help their customers, by stepping in where they are experiencing a problem and providing guidance and reassurance.
People and teams supporting customers using digital channels, require extended skills and 'digital coaching ' is emerging as a new essential skill.
At this workshop, facilitated by the Institute's Academy experts, you will explore:
The role of a 'digital coach'
The skills of a digital coach
Different customer types and different situations
A planned structured approach to coaching
Application of skills through real life situations and case studies
You will also receive these practical tools:
Workshop slides with key learnings
The 4 A's – a structured approach to coaching customers around digital & tech
Our Breakthrough Research – A Connected World
This interactive workshop is ideal for people engaging with customers across different platforms and channels,  as well as managers and team leaders, who are looking to develop capability and capacity and support their teams with customer digital engagement.
This workshop can also be delivered in house, with personalised role plays & scenarios, minimum 10, maximum 12, please contact your client relationship director or Academy@icsmail.co.uk
---
What our members have to say:
I enjoyed the workshop and found it beneficial. I'll be applying the techniques straight away, as they will help me coach my team much more effectively, which in turn will help them to help our customers much more efficiently & with a better understanding.  

– Michelle Askin, Contact Centre Team Leader, Damart –