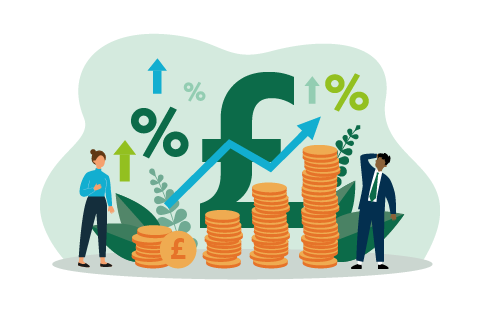 Last month, the Bank of England confirmed what many of us had feared: inflation continues at record rates. The media has been quick to highlight the impact of inflation – and the resulting rate rises aimed at stemming it – on homeowners and consumers.
However, the level of inflation we are continuing to see is also putting many businesses under serious pressure. Not only are costs rising, but access to funding has got harder as investors grow more cautious. Growth and innovation are difficult for an organisation to prioritise if it can't get out of "crisis mode".  We need to address this short-term approach by really focusing on the service agenda – it's easy to say but tough to do, but we all know the correlation between employee engagement, customer satisfaction and business performance.
Combined with increased debt costs, recruitment and retention remain challenges for many sectors. A recent BDO survey showed 20% of mid-size firms are finding it hard to hire new employees, and 24% are struggling to retain their people.  The latest labour figures from the Office for National Statistics show a drop of 55,000 in the number of vacancies in the first quarter of this year, and a 156,000 drop in the number of inactive workers, and 25% of firms surveyed by BDO said that skills shortages would be the biggest risk to their business in the next year. 
One counter-balance to this, however, may be the tourism sector. I recently spoke at a conference organised by ABTA, and from the business leaders there, there was a clear indication that the industry is fairing much better than others in terms of attracting and retaining talent and that the post-Covid recovery was again making service provision a vital differentiator for many. So maybe there are lessons to be learnt here?
When hiring and retaining staff is an issue, providing your existing workforce with the adequate skills and strategic direction to face the challenges of heightened customer anxiety can help improve customer satisfaction, which in turn can help attract and retain customers. In addition, ensuring they feel genuinely connected to your purpose and that they have a stake in this has become increasingly important – this isn't just about hiring, this is about getting the level of commitment and connection you need to effectively run your business.
The pressures of rising costs will inevitably lead to some increases needing to be passed on to the customer. However, managing costs effectively through more efficient and effective customer service can go a long way to offset this. And by getting things right first time, there are huge operational savings through having to deal with far fewer complaints, and critically, even in challenging times, many customers will pay more to ensure a better customer experience.
When money is tight, customers want to see the value of their cash go further. Right now, there is increased scrutiny on businesses from customers, politicians and the media. And as we have seen lately, in regulated sectors, poor customer service and complaint handling will lead to regulatory intervention, resulting in financial penalties and reputational damage. Consistently high levels of complaints make it harder to recruit and retain employees, as well as customers, so it can result in a vicious cycle that is then hard to break.
Throughout turbulent economic times, a laser-like focus on delivering a high-quality and innovative service offering for customers can help increase customer satisfaction and win their trust. Over the years that I have been CEO of the Institute, organisations that consistently earn higher levels of customer satisfaction than peers in their sector achieve better financial results, greater productivity by reducing costs associated with problems, and higher levels of trust and reputation – key sources of long-term value.
The next publication of the UK Customer Satisfaction Index, on 11 July, will be a chance for all of us to understand the direction of travel and assess the key themes and trends affecting customers. Members can register for our exclusive launch webinar, where we will guide you through the latest findings and help you interpret insights from our newly expanded index (which now includes 52,000 customer experiences).
Judging from the results six months ago and the challenges of the intervening period, I don't anticipate too much good news. The key thing will be how organisations – and all of us as a Service Nation – respond, adapt and invest for future improvements.