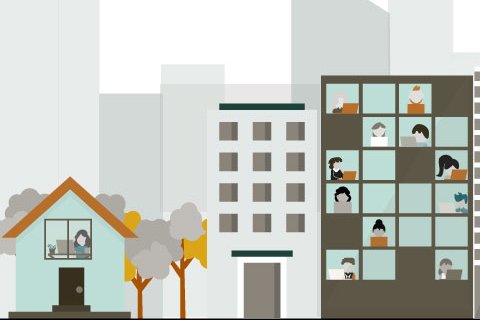 By Jo Causon, CEO, The Institute of Customer Service
As the vaccine rollout continues and hospitality and retail venues open their doors, there is a sense of optimism in the air that things are steadily returning to something resembling normality. As customers return to physical venues – for many organisations, attention is now turning to when, and how, to bring employees back into the workplace when restrictions further ease in June. Much has been made throughout the course of the pandemic of 'hybrid working' – but what does that really mean in practical terms, and how will we ensure it works for employees, businesses and customers?
There is no doubt that the world of work will look different post-pandemic. Many have now had over a year of working from home. This has proved our ability to deliver more flexible working options. But it has not been without its challenges. For many employees, the isolation of home working and lack of a contact with colleagues has presented emotional and productivity challenges. And some activities, such as creative development or future planning – have proven less efficient and effective in the absence of face-to-face contact. The truth is there is no one size fits all solution to the office versus remote working debate – and flexible policies will be necessary to avoid alienating large swathes of the workforce.
Whilst the notion of hybrid working is appealing – businesses should think about what it means in practical terms – and how to ensure it allows for both individual and business needs to be met. A situation in which some employees work remotely, and some from a shared workspace, presents an interesting cultural challenge – and organisations must consider how they can avoid a division between the 'in' and the 'out'. Employees need a suitable and productive working environment and businesses need to find ways to keep their workforce connected, motivated and focused on the task in hand – from wherever they might be performing their role on a given day.
Some are considering 'in' and 'out' days – ensuring all employees are together in a shared space for a certain portion of the week. I know others are looking at grouping employees into smaller working teams based on their roles and requirements. Whatever policies are introduced – ongoing, frequent communication will be vital to success; ensuring employees understand what the expectations are and are regularly reminded of the organisation's purpose to ensure they stay focused around a common goal.
The pandemic has also presented an opportunity to think creatively about our workspaces and how we use them. Those wishing to take advantage of the financial savings of having no large central office space may consider more dispersed, smaller hubs – allowing employees to benefit from a collaborative workplace where necessary without leaving large and costly office spaces lying dormant.
There will inevitably be hurdles to overcome, but in taking a more holistic view of the world of work and thinking creatively about our workspaces, organisations have an opportunity to build a future of work that works better for employees, businesses and customers.