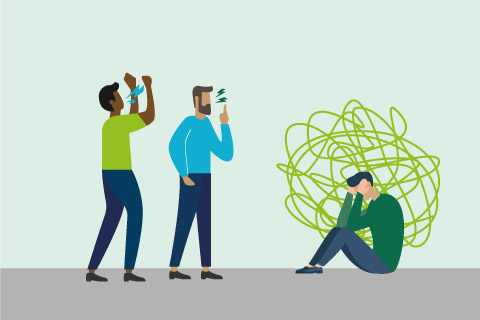 As many of you will know, back in July 2020 we launched Service with Respect, a campaign to address the unacceptable levels of abuse that service staff across all sectors were experiencing. The catalyst for this was a dramatic rise in customer hostility throughout the Covid pandemic and beyond.
I think it is fair to say that the campaign has put the issue of staff abuse by customers firmly on the radar of business leaders and policymakers, and I am proud of what we've achieved over the past three and a half years – including a change in the law to protect customer-facing workers from abuse.
Looking at the latest data, however, it is clear there's more work to do. That's why this week, we published an open letter signed by over 55 MPs, peers and leaders of some of the UK's top businesses across multiple sectors. Our letter (also published by The Daily Mail) calls for better recording and categorising of crime statistics to help us understand the scale of the problem and the impact different initiatives have.
Frontline staff feel far from safe – and it's impacting the economy
Our latest polling data shows that customer hostility and abuse is still troublingly high, with more than a third (36%) reporting incidences in the last six months. What's more, over half didn't report the incident, because they didn't think it would make a difference (52%) or that it happens too regularly to be worth reporting (33%).
When we look at the impact that this has on individuals, we start to see a worrying trend that has knock-on effects for the wider economy too. One in five who have experienced abuse have taken sick leave in the last six months because of it. And those people each took an average of nine sick days over that period as a result.
Focusing on the solution
There is little point in just talking about this problem without seeking practical solutions. We absolutely need to work together to improve working conditions for all our public-facing staff. And on the whole, we've seen organisations taking this issue seriously, making it clear abuse of staff is unacceptable and putting systems in place for effective reporting.
So progress has been made, but there is always more to do. Individuals need to know that when they face this abuse, it will be acted upon both by their employers and, where appropriate, the police and judiciary.
We want to see the policing minister commit to better reporting, with the police recording offences involving the abuse public facing workers separately. Better reporting means better data. Better data means we can get a fuller picture of what is happening on the ground, and can develop the right strategies to combat it. This is why we are working with business, police officials and parliamentarians to help get these issues addressed at the highest level.
By working together, pan-sector, and with the support of cross-bench MPs and peers, I'm confident we will continue to make progress. We want to thank every organisation who signed the letter or has put their name to our campaign for pushing this issue up the agenda.
Feeling safe at work fundamentally matters to your people, the success of your business and wider society. I encourage everyone to remind your customers and colleagues about this. If you haven't already, I would also strongly encourage you to sign up and show your organisation's support for Service with Respect – this visibility is invaluable, and not only do we appreciate it – it makes all the difference to those on the frontline who struggle to get their voices heard.