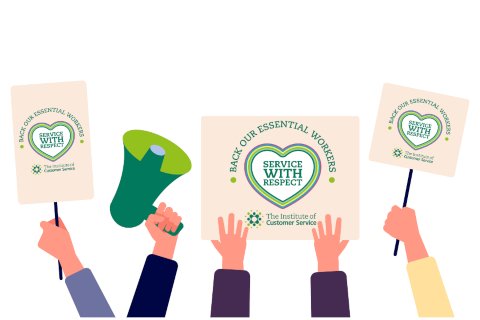 By Jo Causon, CEO, The Institute of Customer Service
As lockdown measures ease and businesses across the country open their doors, society appears to be settling in to the 'new normal'. However, a worrying trend has begun to emerge, with instances of hostility towards customer-facing staff appearing to be on the rise. According to our research, more than half of customer-facing staff have experienced some form of hostility from customers since the start of the pandemic. Verbal abuse is most common but a small but significant number of cases include being physically assaulted; examples range from being shouted and sworn at, to in extreme cases being spat on or physically assaulted.
This type of behaviour is of course unacceptable at any time, but it is particularly shocking given customer-facing staff have, since the very start of this crisis, been at the forefront of efforts to keep our nation running. An army of employees from across multiple sectors have worked tirelessly to provide the vital services we need – from supermarket staff working overtime to keep shelves stocked to utilities workers keeping our basic power and water needs met. They have, quite literally, been keeping the nation's lights on.
In the face of increased restrictions and a larger proportion of vulnerable customers, the roles and responsibilities of these employees has inevitably grown. Indeed, nearly three quarters of those we spoke to felt under additional pressure due to the increased duties they've been asked to perform, and with further restrictions now imposed – such as the mandatory wearing of face coverings in stores – this is likely to continue.
With nearly 80% of the UK's workforce working in customer-facing roles, mounting hostility is affecting staff across every sector – from retail to public services; financial institutions to our public transport networks. And it is not isolated to those dealing with customers in person. Those in contact centres have also faced increased hostility – the impacts of which have been felt even more acutely as a result of working from home during lockdown. Dealing with an abusive customer phone call in a physical workspace is made easier by the supportive words of colleagues – but without this support, the psychological blow can be felt much more sharply.
At the Institute, we champion the vital work customer-facing professionals do – and believe we must do all we can to support and protect them as they go about their essential roles. That's why we have launched a new campaign: Back our essential workers: Service with respect – which will see us work with MPs and our members to call for a change in the law to make assaulting a customer service worker a stand-alone offence.
We're asking that organisations across all sectors adopt a zero tolerance approach to hostility and abuse against their employees. We know from our research that the majority of staff feel well supported by their employer, but as we continue to face tough business conditions ahead, we urge all organisations not to let this fall by the wayside. We must ensure adequate investment is in place to equip staff with the necessary training and tools to handle the increasingly challenging duties they are being asked to perform, as well as to deal with potential conflicts as they arise.
These instances of hostility are of course not reflective of the attitudes of all consumers. Indeed, the majority have been patient and understanding throughout the crisis. But it is the responsibility of us all to adjust our expectations, and consider the impact of our behaviour as we continue to navigate the challenges presented by the crisis.
As we emerge from the pandemic, there is a real opportunity for organisations and government to 'build back better', and this starts with creating a safe working environment for our essential service workers – free from abuse.
For more information about the campaign, click here.