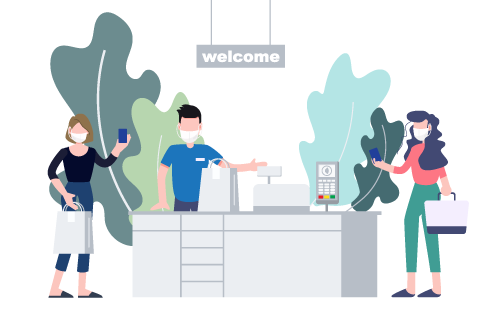 By Jo Causon, CEO, The Institute of Customer Service
As we start to see a further loosening of Covid-related restrictions, businesses and customers alike will hopefully have more reasons for optimism come 19 July. What is clear as we emerge into the next stage is that we have to serve a very different customer landscape than pre-Covid. This will pose a set of complex challenges for organisations as to how to best serve their customers in the months and years ahead. And it will require Intelligent responsiveness, bravery and a healthy dose of calm.
We have seen many service successes through this tough period, with many organisations accelerating adoption of new technologies and processes, with better communication and resources aimed at advice and support that often proved even more successful than their predecessors. The crisis has also exposed some organisation's weaknesses or lack of proper investment in service.
Some of those struggling to adapt to the new environment have used the pandemic as an excuse for basic service failures. For a time, this was understandable and justifiable. Many businesses reported satisfaction increases over the first six months of the pandemic, some of which was seemingly down to more understanding customer attitudes. However, customer patience has worn thin, and as we move out of lockdown, discerning customers will become increasingly less lenient. Organisations that fail to deliver an excellent customer experience risk losing customers for the long-term – and those that continue to blame poor service experience on the pandemic will lose trust and goodwill.
Where covid-related crunch points and challenges do arise, we should all respect the intelligence of our customers. Avoid blanket messaging – help your customers understand the nuance as to the impact. By regularly communicating in an honest, non-defensive way, businesses can build understanding in a more open dialogue with customers. By explaining the cause, the impact, and clearly articulating what you are doing to help mitigate the situation, you can take people on the journey with you in a way that builds empathy and trust.
There is no doubt that the crisis has profoundly affected our collective psyche and impacted many aspects of the customer experience. Organisations can reassure customers by keeping calm, focusing on service fundamentals, and understanding their purpose.
And as consumers, we need to accept that we can't have everything immediately. As customer attitudes, behaviours, and preferences continue to unfold, it is more important than ever for organisations to remain fully attuned to the changing needs of their customer base and adapt their offering accordingly. Our breakthrough research later in the year will explore this in more detail as we are keen to understand what changes in customer behaviour will stay and what will continue to shift.
I would encourage all to think about how we move forward in the context of what we have learnt. This might mean offering more channel choice – adopting a multi or omnichannel strategy that blends the best elements of digital and human experiences to engage with a diverse and fragmented customer base. Organisations should take the time to understand when to utilise technology and which service elements require a human touch. We should be considering what we can learn from what is going on around us, not just thinking about recovery, but how we are adapting our propositions for the world we are heading into. Our research shows that the organisations most aligned to the current needs of their customers are those who can consistently deliver against the key dimensions of customer satisfaction: experience, customer ethos, emotional connection and ethics.
Excellent customer service equates to stronger business performance in the longer term. It's time for brands to avoid looking for excuses and focus on improving all aspects of the customer experience – understanding what the customer wants and consistently delivering against it.