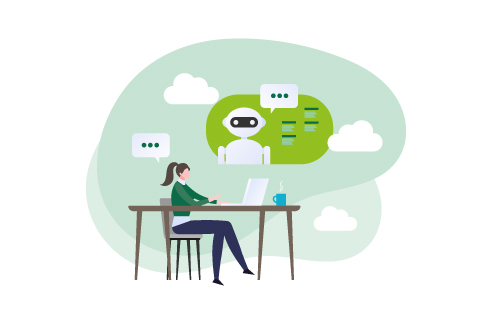 AI has been hitting the headlines again this week, as the titans of Silicon Valley seemingly battle for dominance in the rapidly developing technological field. Love it or hate it, AI is here to stay; but its use across our economy and society does raise some important ethical questions.
There is clear evidence that there are already and will be increasing benefits from supporting our daily administrative tasks – like rapidly writing an email – to helping tackle some of the biggest challenges we face as a nation. People are rightly considering how we make the most of its growing potential. We are already seeing the wide-ranging application of AI-enabled tech in virtually every industry. Many organisations have already begun to embed AI into their operations, for everything from preventing cyber fraud to understanding patterns of behaviour and needs.
From a service perspective, AI-assisted technologies have huge potential to drive the service agenda forward – providing a fast, accurate and effective way to deal with issues and respond to customer queries.
Chatbots, which have fast become a staple of many organisations' service offering, have certainly improved and will continue to do so as AI capabilities advance. ChatGPT has allowed us to use natural language on a scale never seen before, and the speed of this ability will only increase, helping to improve our efficiency.  But a plea if I may, let's not just focus on the efficiency angle, let's focus on the effectiveness and the experience. Smart companies balance the blended approach – human and tech and keep relating things back to the strategy and the purpose of the organisation and service proposition.
Such advancements, however, bring greater responsibility and judgment. Aside from fears of 'robots taking jobs' (underpinned by anxiety during an economic downturn), a small number of organisations have been accused of deploying AI irresponsibly, eroding working conditions and diminishing job quality for employees. The big ethical questions that organisations and Governments will increasingly be faced with have no easy answers.
Essentially ensuring all developments are prefaced on being a source for good. Italy has already moved to ban ChatGPT over privacy concerns and hundreds of business leaders, including the usually gung-ho Elon Musk, recently co-signed a letter calling for advanced AI research to be paused.
Looking at the here and now, however, challenges arise when AI is deployed as an alternative, rather than complementary to human skills. When it comes to service, there will always be those who either cannot – or choose not to – engage with technology, along with sensitive issues that require a human to resolve properly. Even for those who are willing and capable of utilising such technology, it will only deliver a satisfactory customer experience when designed correctly and tested on intended audiences – and such design requires conscious human interaction. When considering how AI fits into the customer experience, organisations should take the time to invest in the right people skills, testing and customer feedback alongside the AI itself.
Used appropriately, AI can be an enormously useful tool to drive forward our Service Nation, providing the greater levels of access, speed and efficiency consumers demand, whilst allowing skilled staff to focus on more complex and creative tasks. However, our research shows clearly that customers want choice. Providing a selection of channels, effective routing of enquiries, along with the option to speak to someone when required is, in simple terms, the most effective way of ensuring the long-term customer loyalty and retention businesses need to thrive in a challenging environment.