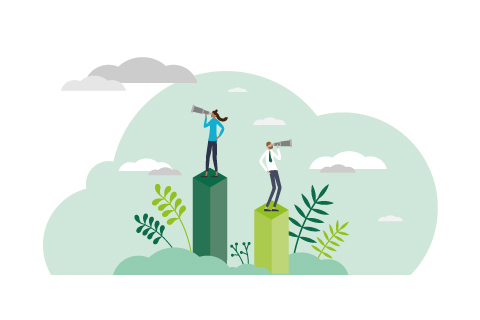 Sometimes things happen that throw into sharp focus how organisations must take a holistic view of what their customers need and adopt a proactive stance to provide the help and advice required.
The terrible storms that recently struck many parts of the UK – Storm Babet – are a clear example of this. The widespread disruption affected people's homes, power supplies, travel plans, and more. I have heard some excellent examples of companies thinking ahead to warn customers, flag likely issues and anticipate their needs. Simple things make a difference here – like advising customers to charge their phones because of possible interruption to the electricity supply, ensuring they have bottled water and a clear plan to check on those most vulnerable.
Other businesses, however, were not so proactive or forward-looking. Services were cancelled at short notice and customers were left struggling to navigate an acutely difficult situation.
Anticipating customer needs
It isn't easy, of course, and sometimes nature or other events take us all by surprise. But it strongly underlines how as businesses committed to service, we need to do our utmost to provide the support that customers look for when things go wrong. We need to plan for it, practice it and see it as part of the customer service experience, not just a response to crisis management.
In part, this is about looking ahead and working through the likely impacts and knock-on effects of adverse events. What contingency plans are in place? Can communication channels be bolstered and staffing levels increased to cope with an influx of customer contacts? What do the organisation's crisis and business continuity plans indicate will need to be done – and are those plans regularly reviewed and kept up to date? What advice, support and reassurance is the business genuinely providing for all customers?
Taking a wider view
It is also a case of seeing the wider picture. Many organisations still take quite an insular view of things and really only look at their own direct services or piece of the chain – but we live in an ever-more connected world now and customers have needs (and expectations) that straddle different providers and services. An insular view is not sufficient anymore and the whole supply chain is of critical importance.
What does this mean in practice? As an example, for a travel company it means thinking about what other forms of transport customers might turn to if your service is disrupted and liaising with other businesses accordingly. Train operators need to be in close contact with bus or coach companies, national coach companies with local bus service providers, with advance warning and clear protocols in place.
Don't forget that we live in a world where it is possible for your customers to pick up information from another source before you do – and this is something that customers increasingly find intolerable. There is nothing worse than hearing of issues from friends or other sources rather than the company that is supposed to be serving us. It is essential to build information sources and contacts so that you can keep ahead, take action and, wherever possible, be the first to let customers know.
Good service is about providing all the help you can to your customers and of taking ownership of the end to end relationship. Most customers see the business that they have engaged with as responsible for their entire experience, even when there are circumstances outside the business' control. A good example here is holidays and leisure. If a customer books a package holiday through a travel operator, they will see that company as responsible for their experience all the way through the holiday – from the flight, to the hotel, to the car rental, excursions and other parts of the service chain. It can be a tough challenge for the holiday company if something goes wrong at the customer's resort – but they will still be looked to as the entity that needs to resolve the problem (or compensate them afterwards).
Challenging times
Disruptive weather events are becoming more frequent; it feels like our world is becoming ever more unpredictable and volatile; economic conditions remain tough too, with the cost of living still a very pressing issue for many. In these circumstances, customers are only going to rely on companies more. The service need is rising – and industry must meet the challenge.
This means investing more time in planning and proactive thinking. It means putting more focus on building and maintaining links with partner organisations, third parties and suppliers. It also means giving customer-facing staff more training around how to help customers and anticipate their needs. The whole organisation needs to be clear about the service journey, what they own and what is expected of them.
Service with Respect
An important benefit of getting this right is that it reduces the likelihood of service staff facing unacceptable customer abuse. This is a topic that is still very much on our radar at The Institute. We are continuing to run our Service with Respect campaign and indeed we are taking it to the next stage with an open letter calling for better reporting of incidents of abuse. We have to ensure that all incidents are captured along with full details so that we can better analyse the direction of travel and see if there are any specific issues that need addressing. The letter will be published soon and we are calling for as many organisations as possible to become signatories to it.
This remains highly topical as the run-up to Christmas begins and conditions get very busy for both customers and staff. It is also very relevant given the alarming rise of shoplifting across the UK, which can place retail staff in an extremely difficult situation.
Maintaining the service agenda
For all these reasons, we need to keep service at the heart of the agenda. The more that businesses can take an all-round view of what their customers need, rather than just one piece of the puzzle, the more we can keep service standards high, meet customer expectations, and create a better working environment for our dedicated customer service professionals.