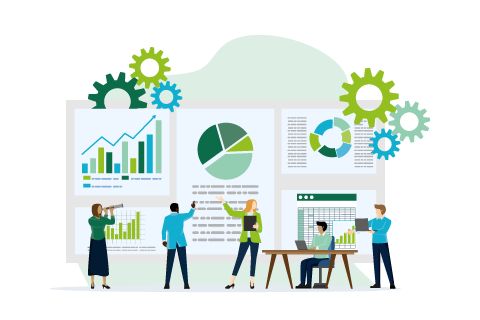 Back in 2017, at The Institute we carried out a piece of Breakthrough Research to analyse and quantify the return on investment of the customer service agenda. The study showed that there is a clear dividend for those organisations that invest in customer service across revenue growth, ebitda and revenue per employee.
Six years on, the time had come to revisit the research. After all the turbulence of recent years, including Brexit, Covid and the high inflation, high cost of living era, would the ROI still be evident?
To do this, we looked at the performance of 125 organisations that have appeared in the UK Customer Satisfaction Index (UKCSI) over the last five years and for whom corresponding financial reports are available.
ROI dividend as strong as ever
I am delighted to say that our analysis showed that the dividend is still very much in evidence. If anything, in fact, it has got stronger. We found that those companies that have maintained higher customer satisfaction than their sector average have achieved stronger revenue growth (7% points more) and higher levels of ebitda (an average of 10% points higher) than their peers whose customer satisfaction is lower than average. This compares to 4% and 10% respectively in 2017. We also found that companies with customer satisfaction higher than average for their sector achieved more than double the revenue per employee of those organisations with lower than average satisfaction levels.
These are highly encouraging and motivational findings for anyone involved in the customer service agenda. They show incontrovertibly that there is a strong commercial and financial case for putting the customer at the heart of long-term strategy and investing in enhancing the customer experience.
But at the same time, the findings are also somewhat disconcerting. Just a couple of months ago, our latest UK Customer Satisfaction Index revealed the biggest one-year fall in satisfaction levels we have seen since the series began back in 2008, with the worst results since 2015.
Two contrasting camps?
How can we square these two aspects up? To me, what it shows is that there is a strong core of businesses who recognise the importance of the service agenda, dedicate time and resource to optimising the customer experience, and reap the benefits in high customer satisfaction, advocacy and loyalty. However, it also shows that there are many businesses that don't. For many, the service agenda is still seen as an overhead and an expense to be pared back as far as it is possible to do without everything toppling over.
Frankly, this is short-sighted. Of course, I understand the pressures that businesses are under, especially now with costs so high and interest rates rising. But cutting back on service only leads to higher levels of customer dissatisfaction and the ever-increasing likelihood of customers (whether  personal or corporate) taking their business elsewhere.
Poor service can quickly lead to a downward spiral of complaints and lower business volumes, while excellent service can create a virtuous circle of satisfied customers who buy more often and spend more (as well as better motivated staff who have higher job satisfaction).
Of course, I am not naïve enough to say that customer service is the only element in the mix. Good service won't suffice if the products are poor or the economics of the business don't add up. But as part of a sound and integrated business model, it's a key element and in particular now when customers are demanding the highest levels of value, and the best possible transaction experience, in return for their hard-earned money.
Service 'call to arms'
As I wrote when the July UKCSI results came out, we need to stop the rot and get back on an upward path. For this to happen, we need more businesses to put the customer at the heart of their strategy and drive a service culture.
For customer service professionals, we need to make this a call to arms. The ROI of the service agenda is proven – so go out and preach the message. Look for every opportunity of demonstrating the value – and hard commercial returns – of the service agenda to your Boards and leadership teams. Service is not an overhead – it's an investment that will generate financial gains.
If we can get that message out there effectively, I hope we can turn the tide and see growing numbers of UK businesses committing to service excellence as a key business lever.