A big THANK YOU to everyone who shared their NCSW activities and interactions with us across the week. We thoroughly enjoyed seeing your efforts shared on social media and emails, and seeing how you celebrate in your organisations.
Read our CEO statement here on the NCSW celebrations this year. Below are a few of our highlights from emails, tweets and Linkedin posts. We are so sorry if you have not been featured, we had too many to include all of them! You can follow the #NCSW21 hashtag on Twitter and LinkedIn for more posts!
We hope you enjoyed the week and we look forward to seeing you in 2022! ?
Key sessions this week: video recording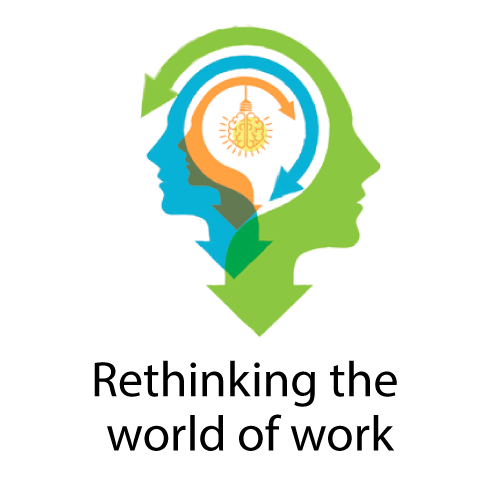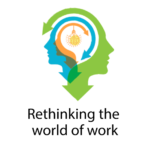 On Monday 4 October, we kicked off NCSW with a panel discussion: our guests, David Roberts, MD of Nu-Heat and Francesca Rea, Director of Customer Service & Service Delivery, NewDay, joined our CEO, Jo Causon, as they explored how organisations are managing the impact of new ways of working, whilst looking at processes, strategy and culture.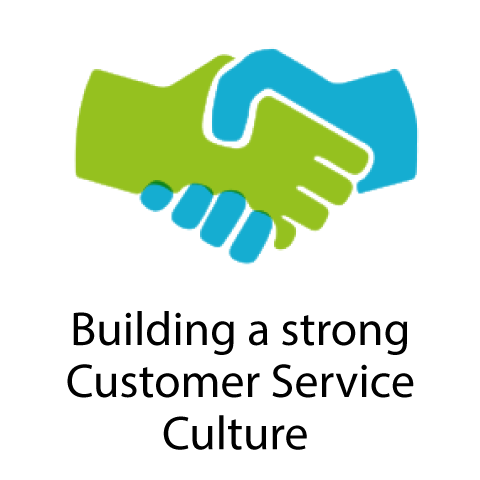 To celebrate Essential Customer Service Skills and Capabilities theme on Wednesday 5 October, Sue Glynn, our Director of Academy, Standards & Quality and Alistair Lockhart-Smith, our FirstImpressions trainer, discuss how to introduce a consistent culture of service across your organisation based on a shared understanding of what defines excellence service.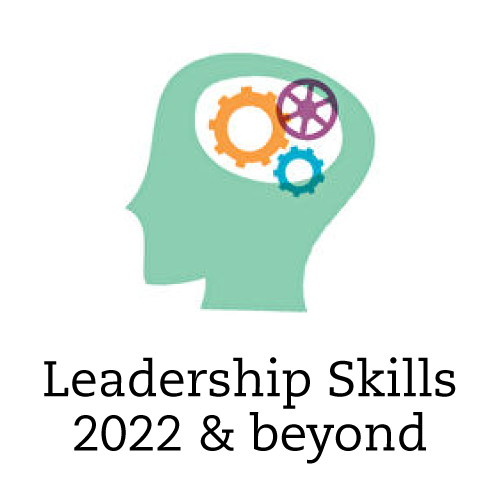 Our Service with Respect training
Following requests and suggestions from our members, we have launched a series of training modules designed to help your organisation deal with challenging customer interactions.
Trusted Advisory Network (TAN) and Discovery Roadmap (DR) members only. If you would like to find out more about membership, please go to: Organisational membership.
Customer Service Heroes Competition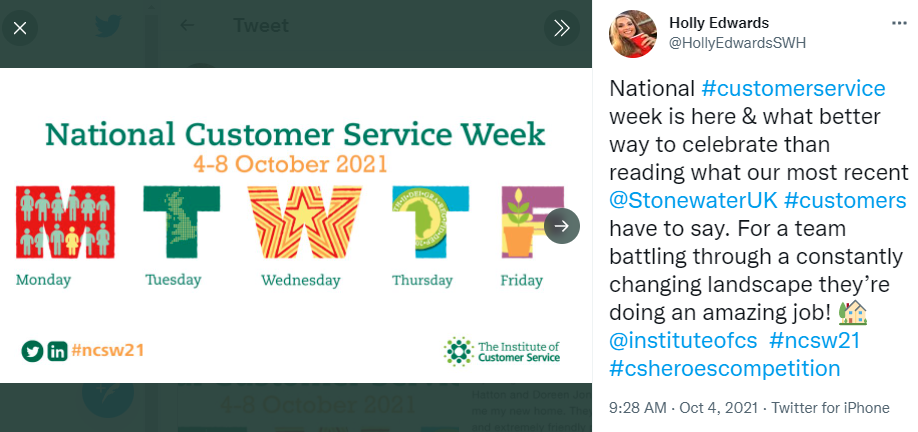 To round off the week we held a Twitter competition asking you and your colleagues to vote for your organisation's Customer Service Heroes. In celebration of National Customer Service Week, we asked you to share your winners with an example of their achievements using the hashtag #csheroescompetition.
Selecting a winner out of the 60+ entries, was not an easy task, it was fantastic to see all these customer service heroes in action! And the winner is…Holly Edwards from Stonewater UK! ? Congratulations and well done! ?
#NCSW21: social highlights
Today's all about recognition this #NCSW21, so we're celebrating our fabulous Customer Success team! 🎉 Here's a shot of them all at our away day earlier this week - turns out they're not quite as good at making pasta as they are at supporting our customers each and everyday! 😂 pic.twitter.com/Fr6N3u1rvD

— Orlo (@HelloOrlo) October 8, 2021
Given everything that has happened recently, it is more important than ever to recognise the individuals that have gone above & beyond. Today is all about identifying and celebrating those that have made a significant impact that has benefited your customers. #NCSW21 #recognition pic.twitter.com/UYq3Y1JmV9

— Concertus (@Concertus_) October 8, 2021
How was our MD's day on the phones?
It's been so valuable to hear first-hand some of the issues our residents contact us about & how the way they communicate has evolved.
Our customer care team Alayne, Maxine & Leonie are brilliant, delivering a great service to everyone.#NCSW21 pic.twitter.com/izXw5vzhLU

— MidlandsRuralHousing (@MidlandsRural) October 7, 2021
Today is the last day of National Customer Service Week and we want to send out a massive thanks to all our staff on Recognition Day👏👏

Later today, we'll be closing our phone & chat lines at 4pm for a special virtual awards ceremony to recognise our customer heroes🏆 #NCSW21 pic.twitter.com/WFp3bxmZMi

— Wave Utilities (@WaveUtilitiesUK) October 8, 2021
As it is National Customer Service Week we'd love to share your experiences and give you the opportunity to shout out your #CustomerServiceHeroes. Do you have any stories about customer service you'd like to share? Let us know and we will retweet our favourite ones! 👇 #NCSW21 pic.twitter.com/ZH5xHqtmSo

— Operational Delivery Profession (@OpsDelProf) October 4, 2021
We're incredibly proud to have achieved the ServiceMark accreditation again from @instituteofcs - especially after such a challenging year.

This recognises our high levels levels of customer service. Thank you to our fantastic staff for making this possible. #ncsw21 pic.twitter.com/RNIFiOvMwK

— Portsmouth Water (@PortsmouthWater) October 6, 2021
What does good customer service look like and how can you create a customer-focused mindset? The ODP eLibrary can can support you in learning the skills needed for effective customer service. Explore the Customer Service resource here: https://t.co/UBwhm4ArzU #NCSW21 pic.twitter.com/DjGUv2XZhA

— Operational Delivery Profession (@OpsDelProf) October 4, 2021
It's 𝗦𝗲𝗿𝘃𝗶𝗰𝗲 𝘄𝗶𝘁𝗵 𝗥𝗲𝘀𝗽𝗲𝗰𝘁 𝗗𝗮𝘆 @instituteofcs 💚 Last year a campaign by ICS highlighted 1/2 of customer-facing staff had experienced abuse since the pandemic began. We offer our staff support, counselling & training to resolve difficult situations. #NCSW21 pic.twitter.com/TtlzZIzjT9

— North Star (@NorthStarHG) October 5, 2021
To start #NCSW21 today, we'd like to thank our staff for the way they've adapted to the 'new normal' in an ever-evolving world of work.

Due to their commitment and flexibility, and either from home or from the office, we've been able to continue supporting our customers🙌🙌 pic.twitter.com/QtvszxRt0I

— Wave Utilities (@WaveUtilitiesUK) October 4, 2021