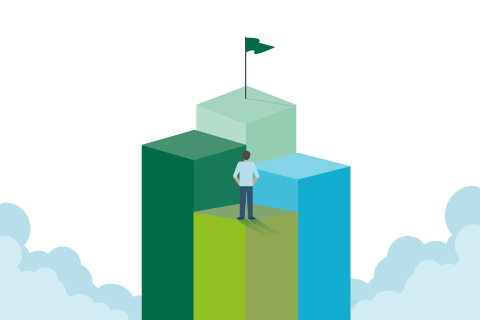 Despite the news that the UK economy is no longer expected to enter technical recession (two consecutive quarters of negative growth), the situation remains very challenged. The economy is stuck in neutral, cost pressures are being felt by businesses and consumers alike, and the outlook is highly unpredictable.
We need to find a path to growth – and at The Institute we have long argued that putting service at the heart of how businesses operate is key to helping achieve it. 80% of GDP is generated by the service sector and over 60% of employees in the UK work in customer-facing roles.
In sectors like manufacturing and construction, service is important as a source of revenue, reputation and a means of winning business. In public services and the third sector, the quality of the customer experience is central to our well-being and way of life.
That's why it's appropriate to describe the UK as a Service Nation. We need to really focus on this now, take pride in it and dial up our determination to drive it as a means of creating that route to growth.
It's something I expanded on at our recent Annual Conference – and I was very pleased that it seemed to resonate with the delegates, judging by the feedback received afterwards.
There are four pillars to being a Service Nation, and we need to build and strengthen each one to get the maximum return. The first of these is Customer Service as a business asset. By this we mean that an organisation's customer service is a source of value that can help retain purpose and focus in an extraordinarily challenging environment. We know that where organisations consistently earn higher levels of customer satisfaction than peers in their sector, they achieve better financial results, drive greater productivity (by reducing staff time and costs associated with problems, complaints and rework), and enjoy higher levels of trust and reputation – all key sources of long-term value.
In fact, our new ROI research on the value of service finds that, over the last five years, organisations with higher satisfaction than their sector average have five percentage points higher profitability, despite the volatile environment. That's a spectacular headline figure. It's an area we will continue to monitor closely as we publish our full research later this year.
The second pillar is Customer Service as a respected profession. Everyone connected to our industry knows that customer service is, and should be seen as, a respected career and profession. Sadly, however, this isn't always the case. There is still the perception in some quarters that customer service roles are a stopgap that people fall into while trying to get somewhere else or that it's a job that "anyone can do".
But the good news is that this is changing. The profession of customer service has expanded to include a range of job roles requiring diverse skills, capabilities, behaviours and knowledge. At The Institute, we're passionate about reinforcing the rightful perception of customer service as a career, and will be publishing research that looks in depth at key service skills and capabilities and how to develop them, how to support and evaluate professional development, and how to build recognition of service as a valued career. More will be shared at our launch this Friday 24 March.
The third pillar is Customer Service as a driver for a fairer society. This recognises the fundamental role of customer service in helping to drive fair outcomes for all. An ethos of genuine customer service will help steer an organisation towards treating customers fairly, doing the right thing and conducting their business according to clear principles and values. They will be likely to make decisions that genuinely consider the needs of customers, including those who are vulnerable. They enshrine the right of all customers to be heard and have their needs, priorities and preferences taken into account.
However, this does not mean that the customer is necessarily always right. As leaders, we have to take decisions that balance the needs of multiple parties – customers, shareholders and other stakeholders. This leads to some fascinating and thought-provoking considerations, and it's an area we will be examining in forthcoming research on Minimum Service Standards as well as our ongoing work this year on the topic of governance.
Finally, the fourth pillar is that Customer Service is key to our nation's long-term growth and prosperity. I have already touched on how better service improves productivity. In fact, we recently calculated that due to the number of customer problems and complaints that are currently arising (a record high of 16.5% of customers experienced a problem with an organisation according to our latest UK Customer Satisfaction Index), up to 20% of staff time is consumed dealing with the consequences. This equates to a drag on productivity worth a staggering £11bn to the national economy every month. If this could be reversed, imagine the positive boost that would be unlocked.
In order to really build this pillar, we need the Service agenda to be central to policymaking on skills, training and apprenticeships. As part of our campaign to promote the Service Nation, we will be working with the All Party Parliamentary Group on Customer Service as well as with government departments to continue to raise awareness of the role that service plays in our economic performance and productivity.
At this critical time in our national fortunes, the business community needs to join together to help drive the Service Nation. This isn't just a case of launching or renewing a range of service initiatives – it's also about leadership and culture. It's about making decisions based on trusted insight, challenging wrong decisions and finding ways to demonstrate the ROI of service so that it is seen for what it really is: a source of value and loyalty – not cost.
I look forward to sharing the results and insights of our ongoing research around these four crucial pillars, and hope they will inspire leaders to continue their efforts to make the UK a proud and inspiring Service Nation.