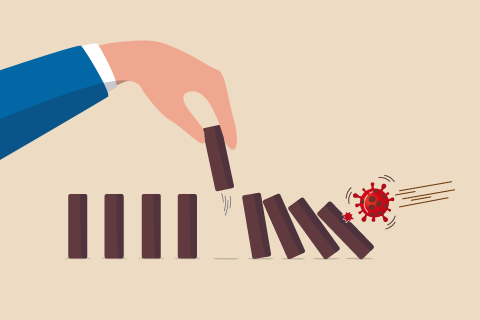 By Jo Causon, CEO, The Institute of Customer Service
In a move that felt almost inevitable, we now find ourselves back in a series of lockdown measures across the UK. We all felt it coming; yet it is still a major blow to many businesses, and their customers, up and down the country. After a fleeting return to something resembling normality, this fresh wave of uncertainty and challenges will for many be a bitter pill to swallow.
As we enter this new phase of the crisis, we must remember the lessons we have learnt over this turbulent year. We enter the second lockdown with something we did not have first time round; the benefit of hindsight and experience. Whereas the introduction of mass restrictions back in March presented unprecedented challenges – we now have a much clearer path to follow. We have seen first hand the businesses that have responded well to the crisis, and those that have not. We have had the time to understand and test operational changes within our own organisations that allow us to support customers and employees effectively from afar. Now is the time to embrace that knowledge, and use it to build a workable plan for the months ahead.
A trend we saw clearly emerge during the initial lockdown period (and beyond) was the increased pressure placed on essential workers. From retail staff to utility workers and transport operators, these employees have worked tirelessly to keep the nation running and support the most vulnerable. As they prepare for the difficult month ahead, we must do all we can to ensure they are given the respect and support they deserve. I've written to you before about our Service with Respect campaign, which I'm proud to say now has the support of over 100 of our members, and believe that the onset of the second lockdown makes the core principles of the campaign ever more important. We all have a duty to ensure our frontline workers are protected from hostility and abuse and adequately trained to handle the increased requirements of our role – as well as to encourage and educate our customers to treat these workers with respect.
We must also remember that the lockdown will have an impact on all employees – including those not working in essential roles. The psychological effect of another month stuck inside, particularly as we enter the winter months, will take its toll on many – and we should think of how we can support our staff through tough times. Simple acts of regularly checking in, effectively listening and responding with care and kindness can go a long way to promoting wellbeing amongst your workforce. For more thoughts around this do see the collection of tips we put together from business leaders on maintaining excellent service in challenging times.
Perhaps most importantly, we must not allow the onset of increased restrictions to let service standards slip. The importance of excellent service has been thrust firmly to the forefront this year, and if we are to survive this next chapter and thrive in the longer term, we must rigorously maintain the high standards we have set ourselves in everything we do.
There is no doubt there are challenging times ahead. But I am confident that in staying calm, embracing what we have learnt and maintaining a rigorous focus on our long-term vision and purpose, we can not only survive the impacts of another lockdown, but unlock greater customer satisfaction, brand loyalty and profitability as we emerge from the crisis.