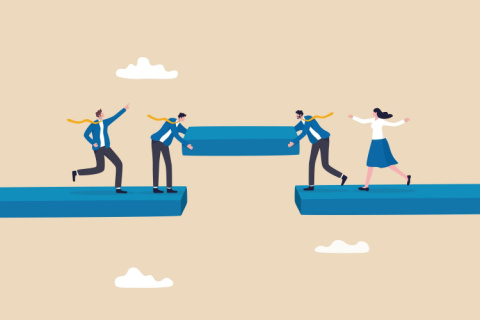 The papers would have us believe the economy is on a razor's edge, with every issue of economic figures scrutinised for signs we're either in or out of a recession. This week's economic output figures from the ONS were no exception, reporting a narrow avoidance of recession that sparked warnings we are not yet 'out of the woods'.
It's not just a case of keeping our balance on the edge, but also of focusing on which side of the divide we intend to fall. Given a choice between investment in growth or managed decline, history shows us that those who invest in service excellence are more likely to prosper. In a fast-growing economy, even weaker business models can survive – but as the going gets tough, the gap between winners and losers grows larger. That is clear from our latest UK Customer Satisfaction Index: overall levels of customer satisfaction in organisations are declining, and while not all of those at the top of the Index may not be growing, they continue to prosper thanks to their investment in customer service.
The challenge for those who choose the right side of the divide and continue to invest in service is in avoiding being pulled down by the market malaise. Organisations such as John Lewis – who, along with first direct, consistently sit at or near the top of the UKCSI – are part of a wider retail or financial services ecosystem. And if that system is dragged down by others, their trade can suffer.
According to analysis by accountancy firm BDO, the UK's wider economic ecosystem is full of sickly and stressed firms. 1 in 10 UK mid-market businesses are at risk of becoming "zombies", generating just enough cash to continue operating and service their debts, but not to invest in growth. 13% of professional services firms are at risk, as are 12% of retail firms.
So, what can we as service leaders do to protect our own healthy firms from being dragged down by the zombies? Well if horror films have taught us anything, it is that those with authority must recognise the threat, call out bad practice and mobilise their teams to act early in their first act. Organisational culture is a telling indicator of an organisation's ability to handle challenges and emerge stronger. Critical to this is ensuring that your organisation is in tune with the concerns, needs and interests of customers.
Despite straitened times, customers continue to be concerned about the environmental, governance and sustainability performance of those they buy from. Emerging from the 2008-9 recession, values-driven businesses outperformed the competition, and I am confident that will be the case again. However, while our emergence from the last recession was dominated by debates over carbon offsetting and recycling, I believe such best practices are now largely baked in. Where I expect to see greater differentiation in the coming years is in how organisations act in building trust and respect amongst their customers, colleagues and across society. And that is where we, as service leaders, have a strong part to play. We should lean into an increased focus on developing professional standards and a career pathway for customer service professionals, and call out poor practice where we see it.
Certainly, that will be my own focus as we continue, as The Institute, to promote the profession and standards of service excellence to reset and propel our profession and the organisations we support into 2023 and beyond.