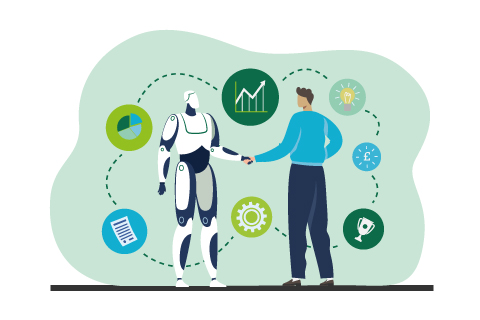 Just two weeks ago, the Prime Minister held a roundtable meeting with leading CEOs in AI, including Google DeepMind, and Anthropic. It follows establishment of the new Department for Science, Innovation and Technology, and the implications of AI being discussed at the latest G7 meeting. We are all having to get to grips with fast-growing technologies which have the power to transform our economies and society, for better or worse. The critical role that Government has in this cannot be understated – the guidelines and safety rails they need to put in place must be practical and effective at a time of increasing risk and wider security issues.
Business leaders across our membership are at the forefront of this technological transition – continuously reviewing how to implement and harness a range of technologies to be more efficient and provide better service levels in an effort to drive growth.
As we stand today, there are two areas for consideration: AI and tech that enables us to understand complex data in a matter of seconds; and the use of AI to undertake repetitive tasks and activities. I am not an expert in this field, but being clear at the outset about what you want to achieve must be the best place to start! Also, we should consider the law of unintended consequences and ensure customers feel that we care and want to be connected to them. Whatever the age profile, we have seen a significant increase in the desire for honesty, integrity, reassurance and advice – and those companies that deliver this will be the ones that endure.
Tech-enabled solutions have real power to change how businesses interact with customers – which we have already seen in customer service. As I said earlier this year, chatbots have certainly improved and will continue to do so as AI capabilities advance. We need that trend to continue so any routine aspects of the experience are quick and seamless.
What we don't want is for AI (or other advancements in technology) to be scary or seen purely as a matter of efficiency. For me, new technologies should be seen as tools to help improve, empower and advance service. If we are to be a Service Nation, businesses must stay grounded in their purpose and focused on the evolving needs of all of their customers.
A blended approach of human and machine – refined and optimised over time – is crucial to enhancing the customer service experience. Take the metaverse, for example, which is back in the headlines this week as Apple trails its new 'mixed reality' headset. Its applications, we're told, can be used for almost anything, including a potentially enhanced customer interface experience for brands. Could, in the not-too-distant future, people be experiencing customer service in the metaverse via headsets, rather than chatbots at the side of a screen?
Our research shows that people inherently distrust automated services, AI and algorithms to solve complex questions. For sensitive or less procedural matters, most people just want to talk to someone. Could putting a face, or avatar, in front of a customer help build trust and humanise a customer service experience or does this simply lead to feelings of deception and alienation – perhaps we want the choice?
Ultimately, how customers take to these new offerings will depend on how much businesses invest in their real-world testing with real customers and how well any new systems solve the complex issues demanded of them as well as the intent and purpose of why it's being undertaken – to improve and enhance the experience. Our UK Customer Satisfaction Index (UKCSI), published twice a year, and next on 11 July, tracks satisfaction with different channels. I will be interested to see how things have changed and developed over the last six months.
And as ever, delivering a range of solutions to the different customer situations is the answer. Thinking intelligently about how we deploy AI and any tech advancement, including the potential of such tools as the metaverse, concerns me most.
In the last UKCSI, improvement in satisfaction with complaint handling had stalled and looking forward to the next set of results (which will be upon us soon), I cannot see that customer service levels will have improved! Could AI or the metaverse help turbocharge a future recovery in customer satisfaction that we all want to see? It's too early to tell, but a balance is needed and that requires human intelligence, AI, and investment in the customer experience to achieve sustainable business growth.