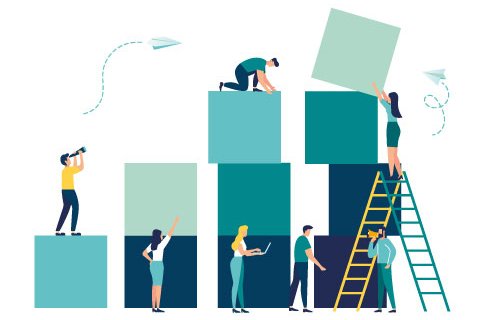 By Jo Causon, CEO, The Institute of Customer Service
It is hard to believe we are approaching a full year since the Covid-19 pandemic hit the UK. The past 12 months have brought such far-reaching changes to our way of life, that at times it's hard to remember what things were like before. Our working landscape, in particular, has been turned upside down by the crisis – as businesses across all sectors have been forced to review and adjust their operating models to deliver even their most basic of services.
For the hard-working employees within organisations across the country, this has been a period of enormous upheaval. For many, it has meant a lightning-quick adaption to remote working – adopting new working practices and embracing technology to stay connected – all whilst juggling ever-present demands of daily home life. For the many thousands of key workers unable to work from home, it has meant learning to carry out their duties under increased restrictions, from the wearing of face masks to maintaining social distancing. And of course, for some, it has meant an extended period on the government's furlough scheme, trying to remain positive and prepared for an eventual return to work. In turn, this has presented a mammoth challenge for organisations to keep all employees, no matter where or how they are working, motivated and engaged for the task at hand.
As the vaccine rollout continues, I'm cautiously optimistic that the end is in sight. But what remains unclear is the impact of this period of disruption on our working landscape in the long-term. I am sure that many business leaders will be beginning to tentatively consider plans for a return to 'normal' operations – from how and when to bring staff back to the workplace to how to safely reopen physical premises. But as I have said time and again throughout this crisis, a knee-jerk return to the status quo risks undermining all that we have learnt over the course of this turbulent year.
To take the example of remote working, it is clear that this long-term experiment in working from home has been a welcome change for many employees, who have seen the upsides of more time spent with family and a reduction in lengthy commutes. For others, a return to the social connection and productive working environment offered by an office cannot come soon enough. When restrictions ease, effective businesses will need to consider new, hybrid working systems to adapt to the new world.
Good leaders are already thinking about new policies to adapt to the post-crisis environment – from how to use technology, that has become a lifeblood whilst we work remotely, to thinking about this more purposefully in a hybrid environment; how and where we work and for what tasks, and how we as managers and leaders manage work-life integration. The concept of working flexibly and in agile ways, including offering remote working options, is not new. But really thinking about our workspaces and how we use them – from considering collaborative arrangements, local community hubs and more connected environments – could provide some great ways of working. In truth, we need to start to consider the 'world of work' more fully from an employee, organisation, customer and environmental view and this will be the subject of our next piece of research at The Institute.
For all of its many challenges, this crisis has presented an opportunity for businesses to refocus, reflect and take on board new ways of working when we come out of the other side. We have a real opportunity to think creatively and re-shape our future – building back better to provide a working environment that delivers for both businesses and employees. Let's not waste it.