BT Enterprise is a longstanding member of The Institute – since 1998. The business has been participating in NCSW for a number of years. But for NCSW 2019, they decided to really up their activity and also take advantage of their new internal social media platform Workplace to maximise engagement.
The Institute of Customer Service has running National Customer Service Week (NCSW) for many years now. For countless organisations across the UK, it has become a great focal point to celebrate excellent service and give recognition to their hardworking teams.
One business that really got the most out of NCSW is BT Enterprise. The business division of BT has some 8,500 customer service staff based in contact centres across the country. Providing support to 1.2 million business customers – from large FTSE businesses through to SMEs and start-ups – across the complete range of telecommunications and IT services, the team deals with many thousands of customer contacts every year through a variety of channels including phone, live chat and email. With telecoms and IT being so critical to businesses' operations, providing an outstanding level of service is of paramount importance.
Amplifying NCSW through internal social media
BT Enterprise is a longstanding member of The Institute – since 1998 – and in that time has been awarded The Institute's TrainingMark accreditation over a number of years for their in-house customer service training as well as running a successful Professional Qualifications programme. The business has been participating in NCSW for a number of years. But for NCSW 2019, they decided to really up their activity and also take advantage of their new internal social media platform Workplace to maximise engagement.
Julie Cannop, Rewards and Recognition Professional at BT Enterprise based in Thurso in Scotland, explains: "National Customer Service Week has always been important to us. NCSW is always a great way to raise the profile of customer service in the organisation, to recognise the efforts and achievements of staff, and reflect on ways of continuing to do things better. Last year, we saw the opportunity to take our engagement to a new level not least because we had our new social media platform available to us – so we created a programme that really created exceptional levels of buy-in!"
This involved following the themes for each day – Insight, Capability & Skills, Recognition, Leadership, and Trust – and encouraging colleagues to nominate another colleague or manager for recognition based around one of them – using Workplace as one of the main channels to do so. It also saw the creation of 'retro games' for each day based on the themes which staff could participate in and use the social media channel to enter. There was a wordsearch game based around customer service terms on day one, a crossword on the second day, followed by an acronym game, a 'Who am I?' quiz based on BT-related products, services and senior staff, and a 'Peekend' quiz on Friday to round the week off which was a pub-style quiz drawing everything together.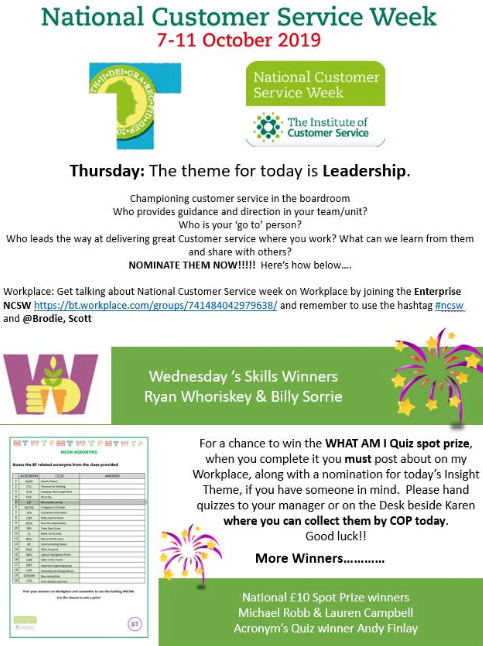 Staff were encouraged to take pictures of their completed games and post them on Workplace, tagging Julie and her colleague Natalie King, Sales Through Service Professional based in Manchester who helped Julie organise the week, to show that they had entered. This also encouraged comments and engagement from others.
Natalie King says: "The response was amazing! Our notifications on Workplace were constantly pinging. It became streams and streams of NCSW-related comment and activity. This was fantastic for the business as driving greater use of Workplace was a priority. We were able to use NCSW to help achieve that at the same time as celebrating customer service."
Prizes and recognition
Julie and Natalie also used the social media platform to offer 'spot prizes' through the week. For example, posting that the next person to receive a 10 out of 10 rating from a customer would win a prize. Around 100 spot prizes of £10 were awarded during the week.
Through the week, they received some 1,200 nominations for recognition – an impressive return from 8,500 staff, meaning that 1 in 7 people were put forward by their colleagues. This was organised so that the Director for each of BT Enterprise's seven key areas (such as Mobile, Broadband, Managed Customers etc) chose the best nomination within their area for each day. These individuals each won £50 together with a certificate – and were congratulated and celebrated on Workplace.
The Directors then selected their single best entry across the whole week, who went forward to the 'final'. This was adjudicated by Mike Cook, Managing Director of BT Enterprise, who chose the overall grand winner. This lucky individual received an iPhone 11 Pro as their prize, presented to them by their Contact Centre Manager and, again, celebrated on Workplace complete with a video of the presentation, photos and congratulations from colleagues.
"The winner was a real 'superhero' of customer service," Natalie reflects. "She is based in the Glasgow Service Optimisation and Performance team and had overheard a customer complaining about their BT bill while she was out at a social occasion! She took the time out to discuss the problem with the customer, explain the billing process to them and resolve the issue, and then went to visit them the following month to ensure that all was well. It was a brilliant example of going 'above and beyond'!"

Feedback and learnings
Overall, the week was a huge success and created a tremendous buzz in the business. So what do Julie and Natalie think were the keys to success?
"I think it's about getting the balance right between business messages and simply having fun," Julie says. "People really want to get engaged if there's a fun element and being able to share it with others via an internal network like Workplace just amplifies it and makes it go even further. Of course, you have to hit the right tone. With our games, we were conscious that we didn't want people to feel like we were treating them like children! But I think we managed to judge it right. We also got great engagement from our team of engineers who are out on the road. They have always been difficult to reach given that they're out of the office a lot of the time, but this time around the buzz reached them too which was really pleasing."
There's no doubt that using internal social media made a huge difference to the success of NCSW. But they also decided to have more prizes than in previous years although at lower values – meaning that they could stretch the budget further and recognise more people.
After the week was over, Julie and Natalie circulated a questionnaire to gain feedback. The responses have shown that colleagues viewed the week hugely positively with 98% loving the new format and looking forward to next year.
Indeed, anticipation is already building for this year's NCSW.
As Natalie says: "Colleagues and managers are already asking what we have planned! We haven't actually decided yet. But we'll be making sure it lives up to last year!"
[/vc_column_text][/vc_column][/vc_row]