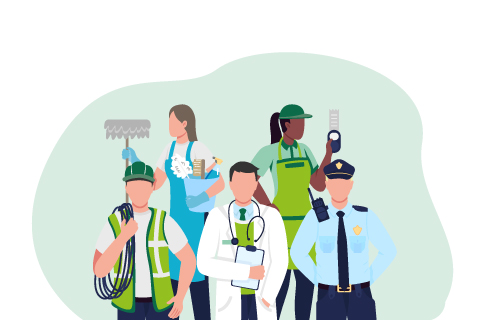 As we edge closer to the Coronation – and whether you are a republican, a royalist, or somewhere in between – it is clear the whole country is relishing the opportunity to enjoy a second bank holiday weekend in as many weeks. Millions will be descending on British streets, pubs and other hospitality establishments to celebrate the occasion, spending time in our local communities with friends and families.
For many organisations, the historic event presents a welcome opportunity for a much needed revenue boost, with spending predicted to be boosted by £350m over the weekend in the hospitality sector alone. The service we provide over this time is a real opportunity to shine and demonstrate all that is good about the Service Nation. However, whilst we all enjoy the celebrations, I urge us to spare a thought – and thanks – for the millions of service professionals working to enable the rest of us to make the most of the long weekend.
Recent figures from Unite suggest a fifth of UK employees regularly work over bank holidays, in roles ranging from retail and hospitality to transport and, of course, those in the emergency services. Whilst the anticipated increase in footfall presents an excellent opportunity for organisations to improve revenue, we should be mindful that it may be a challenging weekend for those working in frontline roles – and it is our responsibility as leaders to ensure they are protected, supported and prepared.
The onus is on us to ensure we have adequate resources to manage the weekend's retail and hospitality influx – and staff should be equipped to handle potentially challenging situations as and when they arise.
We have seen from our ongoing Service with Respect campaign that, sadly, instances of abuse and hostility towards our frontline workers remain unacceptably high – and predicted queues and crowds over the long weekend pose a risk of a spike in customer frustrations. Ensuring that employees are adequately trained to handle such instances, and that a zero-tolerance approach is clearly communicated to both customers and staff, will be vital in maintaining a safe and respectful environment.
Over Coronation weekend, and every day, we should remember that our Service Nation is built on the collective effort, commitment and hard work of tens of millions of individuals.
The success of our economy and society relies upon our service professionals, and I urge us all to not only raise a toast to them as we enjoy the weekend's festivities – but to ensure they receive the support and recognition they deserve all year round.