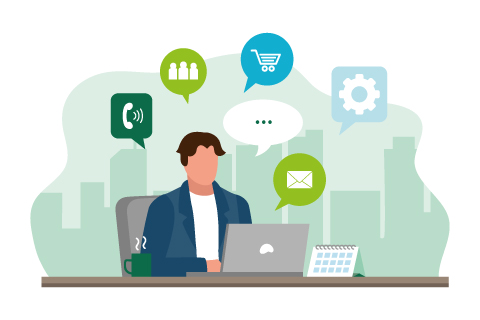 At the start of the new financial year, and on the cusp of another technological revolution – this time driven by even greater advances in AI – organisations are seeking more personal, efficient, and cost-effective ways to serve their customers, and customers are certainly seeking efficient, personal and authentic experiences. So maybe we are on the verge of really accelerating this?
With the economy flatlining and costs increasing across the board, there is pressure to find competitive advantage by improving the customer experience. But where to start? Time and again, our UKCSI analysis and much of our other Research & Insight demonstrate the same common bugbears customers have when trying to contact an organisation. I would like to home in on a couple of these issues: channel choice and ease of changing channel.
The pandemic, in many ways, forced organisations to pioneer innovative ways to serve their customer base, and many of these have stayed in place – from live chat and chatbots, to click and collect ordering systems. Chatbots have been poorly received in most cases, usually because they are not sophisticated enough to understand the situation in question, or ineffective in routing enquiries to the right place.
Giving your customers the choice of channel for communicating with you is critical, and as we know, the most important aspect is how these channels should be integrated and aligned to provide a seamless and satisfying customer experience across the whole journey. An effective omni-channel approach requires genuinely smart thinking with effective system integrations, clear protocols and open communication between departments to ensure customers can switch between channels and even business divisions without having to repeat themselves.
In many cases, this requires a shift in mindset and culture – and is certainly not just a systems issue to ensure that all departments within a business are working towards a common goal of providing that seamless customer experience. It also requires investment in the right technology and tools to enable communication and data sharing in a consistent and secure way, as well as genuine data mining focused on real customer insight.
In the race to provide channel choice and make the most of the benefits of digital solutions and AI-augmented service provision, the human involvement continues to play a vital role. Whilst many organisations are undoubtedly seeing a huge range of benefits from technological advances, there is a risk of over-reliance on it to address every situation. Many service issues, from dealing with vulnerable or digitally excluded customers to handling sensitive issues, still require the knowledge, skill and empathy of a highly trained service professional.
By understanding and regularly reviewing customer journeys and getting customer feedback at every part of it, you can get a genuine 'feel' (and this word is important, as it isn't just about the process or procedure – it's very much about the experience) for what is running smoothly and where you need to focus attention and investment.
Ultimately, an effective omni-channel approach is about offering choice based on need. And this requires organisations to take the time to understand their customer base and provide them with options personalised to their preferences. By embracing this approach, organisations can build stronger relationships with their customers and create more value for their business, while instilling a customer-focused culture.