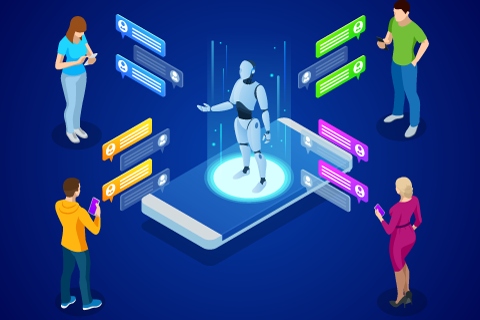 By Jo Causon, CEO, The Institute of Customer Service
So much has changed through the Covid-19 pandemic and we simply don't yet know the full extent of the impacts on how we live and work.
But certain trends are clear, as we explore in our new report on The Changing World of Work. Most obviously, the hybrid working era that we are now entering will significantly change the way that businesses organise themselves and the working patterns of staff. This shift also means that new skills will be needed – both for employees and the managers who oversee, support and appraise them.
Another key shift is the move towards greater digitisation, automation and the use of AI. This is an area that holds really exciting possibilities. I believe that – if managed well – it can be a key facilitator of better standards of service and higher customer satisfaction.
Our research shows that many customers have extended their use of digital and online services through the pandemic, often for the first time. Over a fifth of customers used a mobile banking app or ordered groceries from a supermarket online for the first time during the pandemic. Of these, over half reported that they had been very satisfied with the experience and around a third expect to continue to use these channels into the future.
Customers are most receptive to AI and automation when it is used to provide fast, accurate responses to enquiries, equip employees to give timely or better advice or diagnose and resolve problems, such as with appliances in the home. For simple transactional things like checking the progress of an order or making a booking, they are generally happy to self-serve or do so via a digital process without any human interaction.
However, nearly four-fifths of customers believe it is important to be able to speak to a person when they have a complex or sensitive issue, a complaint or a query about a bill. Many are also wary about their personal data being accessed or stored to facilitate automated or AI-driven processes.
In addition, there remains a significant proportion of customers – nearly a third – who are unconvinced about the usefulness of digital services, even for routine and simple interactions.
Encouragingly, these customer attitudes are mirrored in the thinking of the senior managers whose views we captured in the research. 70% of senior managers expect most routine customer interactions to increasingly be automated or handled through digital channels, while complex or emotionally sensitive issues will be handled by members of staff. Some organisations in our research said that 75-80% of their current customer interactions are already handled digitally.
Clearly, the priority for organisations must be to work out which customer service journeys are most suited to which channels and method of servicing. Through the learnings gleaned from the pandemic, smart businesses are beginning to navigate this better. It's becoming a real point of service differentiation. The realisation has well and truly arrived that, if you build good customer experiences founded on technology that are smooth and intuitive – that's good customer service too. An automated or AI-driven solution does not mean that a business is somehow swerving the need to serve a customer. It's part of the service in itself.
This is becoming more possible and real because technology is continuing to rapidly evolve. Tech is becoming more 'human' in that it can be based on a greater degree of personalisation and offer a more immersive experience. There has been a huge growth in apps and technology solutions that provide virtual visualisations for customers – modelling what a new hairstyle, piece of clothing or home improvement would look like, for example. Many customers find these visualisations not only fun but genuinely helpful. There's no doubt that this kind of technology will continue to grow – even the contents of our kitchen cupboards may become visualised for users of online meal planners and grocery shopping, helping identify what products need to be restocked and when.
This is the kind of colour that digital technology can bring. When used well, it enhances the customer experience and makes their lives easier. For organisations, it frees up service staff to focus on customers with more complex issues or complaints, as well as particular groups such as vulnerable customers.
A key point, however, is that technology can only ever be part of the solution. There will always be a need for the human touch. Indeed, just as the working model of the future is likely to be hybrid, so organisations need to take a hybrid approach to the 'people vs machine' customer service question. It's a case of 'both/and' not 'either/or'. Some customers welcome digital and self-service pathways – they actually prefer not to speak to anyone most of the time; other customers are the opposite and want to speak to someone whenever possible. Organisations must cater for both.
Some of the best examples of service are when the two elements integrate with each other. Increasing numbers of businesses are building smart technology into the customer service process so that it gives the service agent 'nudges' or prompts based on a customer's history, tone of voice and other indicators – helping them be more responsive to the customer and deal with their query more effectively.
Ultimately, the shift towards digital servicing is likely to continue and accelerate. For those that get it right, service standards could hit new levels – bringing customers the right blend of people and machine, through smooth and intuitive personalised pathways, with trained and supported staff on hand to help with more bespoke and complex needs.
It's an inspiring vision – and one that businesses need to start aiming for right now.