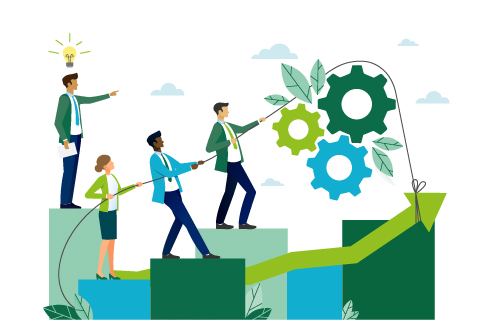 Signs of a drop in customer satisfaction levels have been gathering over the last few months, as I have warned about in recent blogs – and now the evidence is all before us in the Institute's latest UK Customer Satisfaction Index (UKCSI).
Unfortunately, and very disappointingly, customer satisfaction has fallen across all of the 13 business sectors that we track, with the overall index standing at its lowest level since 2015. The 1.8 point drop to 76.6 (out of 100) is the biggest annual decline we have recorded since we began collecting data in 2008. It doesn't make good reading.
The key driver behind this plunge is customers' dissatisfaction with complaint handling. Quite simply, when things go wrong it is taking organisations too long to resolve the problem. Satisfaction with how businesses respond to and fix an issue or complaint has fallen by 7.2 points, from 66.4 a year ago (already quite low) to 59.2 now.
Nearly half of customers (48%) who experienced a problem say that it took longer than they expected for it to be resolved, compared to 37% in July 2022. We calculate that this is costing businesses a huge £9.8bn in lost time, placing a significant drag on productivity at a time when we can least afford it.
Challenges are especially acute in the Transport and Utilities sectors which have seen the biggest drops in satisfaction – both falling by 2.2 points over the last year. With rising bills and increasing scrutiny, some sub-sectors have declined even more sharply: customer satisfaction with energy providers has dropped by 5.3 points, while for water companies it has fallen by 3.5 points.
Two key factors driving the fall
So what are the reasons behind this decline? Undoubtedly, organisations are operating in challenging circumstances. The cost of living squeeze is putting consumers under pressure and making them less tolerant of poor service. Businesses are themselves having to deal with rising costs, high inflation, spiralling interest rates and ongoing staff shortages. But these factors can't excuse any dropping of service standards and commitments.
I see two factors as being really at the heart of the problem. Firstly, the shortage of skilled and capable service professionals is hampering businesses' front line efforts. Service teams are becoming overstretched and tired. Organisations need to redouble their efforts to boost retention, invest in recruitment, and provide the training and support that staff need to equip them for the task.
Secondly, the signs are that technology and automation solutions are not yet delivering all that has been hoped for. Organisations have invested considerably in automated solutions such as chatbots alongside alternative contact methods like WhatsApp – but we still often hear that customers are experiencing a 'circle of doom' where they feel trapped in a dead-end loop that isn't helping them get their problem fixed. When we look at what customers say would most improve their experience, the items most commonly cited all relate to ease of contact and being able to speak to an actual person.
High performers and bright spots
Of course, it is not all doom and gloom and we continue to see many examples of exceptional service. What we see from our top performers (and this time around, the top three organisations were First Direct, Starling Bank and M&S Food) is that they continue to embrace service as a key strategic driver and remain absolutely committed to maintaining that.
There was also a brighter picture in some pockets such as the tourism sector. This accounted for seven of the index's top 13 most improved firms and has become second only to retail (non-food) for customer satisfaction. Organisations like Jet2holidays.com, Hoseasons, Hotels.com and Expedia all performed well and improved their scores.
Putting service back on track
Businesses need to stop the rot and get back on an upward path. Looking forward, success will lie in continuing to put service culture at the organisation's heart. This means continuing to invest in, and train, service staff so that they are able to bring the best of themselves to work each and every day. And it's about continually coming back to customer journey mapping and making sure systems integrate with and support those journeys effectively and appropriately. Any disconnects between the two will inevitably lead to service problems.
This period's UKCSI should be a loud wake-up call to UK plc. Service is too important to let slip. After all, around 80% of national GDP and 60% of the UK workforce is service-related. Businesses need to do better. Those that do will reap the rewards of greater customer loyalty, repeat spend and advocacy. Those that don't will increasingly see customers moving elsewhere. In a difficult economy, this is something no business can afford to see – especially as we approach the run-up to the crucial Christmas season.
Let's get back on top of this now and keep on building the Service Nation.