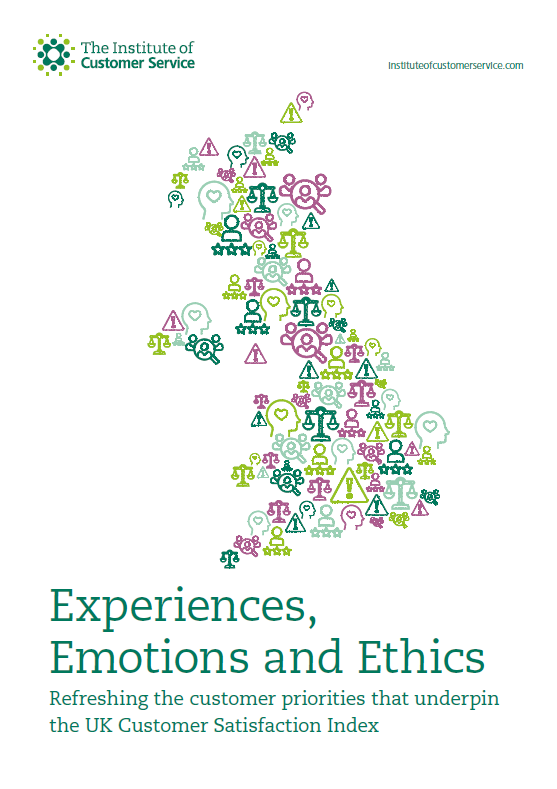 By Jo Causon, CEO, The Institute of Customer Service
In my January blog, I wrote about the latest results of our UK Customer Satisfaction Index (UKCSI), and touched upon the fact that we have expanded the Index to include three new measures that give a richer picture of how organisations are performing.
These three measures are in fact crucially important because they are the differentiators that can drive genuine customer satisfaction and engagement. They have always been picked up in the UKCSI, but we have not split them out explicitly before and given them a measurement score.
The three categories are:
• customer ethos – the extent to which customers believe an organisation cares about them and builds the experience around their needs
• emotional connection – the extent to which an organisation engenders feelings of trust and reassurance
• ethics – including reputation, transparency and the extent to which an organisation is deemed to "do the right thing"
Of course, the overall customer experience – built on an organisation's ability to provide efficient service and deliver what it has said it will, plus the complaints handling and problem solving process remain the primary factors in having satisfied customers. But these are hygiene factors: they are simply what any customer expects. They are the minimum standards that give a business its license to operate.
But it is the three new categories that really drive or enhance customer satisfaction to the extent that one organisation stands out over another. They are the key to improving customer satisfaction and loyalty.
Let me briefly take each one in turn. The customer ethos is about a business showing that it really cares about its customers and keeps its promises. It means engaging with customers in the way in which they want to engage, not forcing them down one particular route. So customer ethos draws on the omnichannel concept and also brings in personalisation: showing that you care about your customer and treat them as an individual rather than stereotyping them or sweeping them up into big generic categories.
Emotional connection is about customers actually feeling that an organisation values them. We all know the irritation when you are on hold to a call centre and the automated message says "your call is important to us" because we know it is just a standard message that comes on regardless of who is calling or about what!
Emotional connection is the opposite of this: making the customer feel that you genuinely value them because you know who they are and what history or preferences they have. Emotional connection results when the customer feels that they can rely on and trust your business, and that you will listen to and respect them. Essentially, it is about the customer feeling they have a relationship with you that is more than merely a transaction.
Ethics, meanwhile, is a topic that has become increasingly important in recent years. There is a rising expectation amongst customers and wider stakeholders "including regulators and politicians "that a business will embrace strong and fair values and will act in the right way. This could be about the treatment of employees (the gig economy and fair wages, the Modern Slavery Act), the environment and sustainable practices, data privacy and security (especially in the wake of the Facebook/Cambridge Analytica scandal, as well as the GDPR), or other issues such as respect for diversity and equality. The list of issues is only growing. But to an ever greater extent, customers take such issues into account and will move their business if they do not like what they see.
When we look at the top overall performers in the UKCSI, they all do extremely well across these three measures. It is what propels an organisation into that top category of service and satisfaction, while others are seen as competent in some areas and perhaps weaker in others. It is the icing that transforms the cake.
These factors are more important than ever now. We are living in exceptionally challenging times with falling levels of trust in business and the political establishment, low national growth and productivity, and increasing polarisation driven by issues such as Brexit, where uncertainty only stretches on.
Businesses need to focus on these three differentiators – they could make all the difference in the months to come.