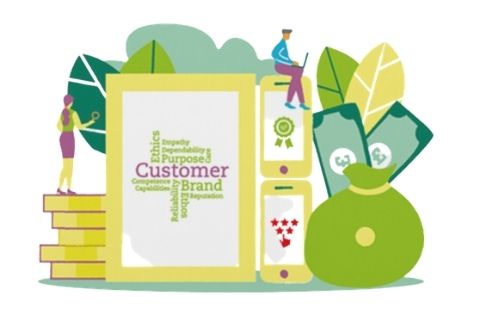 By Jo Causon, CEO, The Institute of Customer Service
Earlier this week, we launched our latest piece of breakthrough research – examining the role trust plays in the customer experience. Trust is, and always has been, fundamental to our interactions – as customers, as employees and as leaders. Yet in the face of the enormous upheaval presented by the Covid-19 pandemic, widening inequality and increasingly polarised political and cultural worldviews, trust has become increasingly strained across all aspects of our economy and society.
For organisations, recent times have highlighted the critical importance of trust between customers, suppliers and partners in enabling them to adapt successfully to changing and unpredictable conditions. Yet in an increasingly complex and unstable customer environment, trust has become ever more difficult to maintain and potentially even more important.
Our research demonstrates that high levels of customer satisfaction are directly correlated to higher levels of trust and in turn customer retention and recommendation, whilst improving efficiency and reducing cost. Recent times have seen an overall stagnation in average trust levels with organisations across the UK; yet this is not the whole story. A closer look reveals a deeper problem, with an ever-widening gap between those organisations who score highly on trust levels, and those who fall short.
As we continue to recover from the seismic impact of the Covid-19 pandemic on our economy, organisations should consider just how fragile trust is. Where they seek vital short-term revenue or growth, they should take care not to risk permanent damage to long-term customer trust and reputation. We should all look more closely at the factors that influence and drive customer trust and adjust our strategy accordingly.
Our research reveals the highest customer priorities for trust lie in the fundamentals – quality of products and services, competence, reliability, transparency and being treated as an individual. Yet there are increasingly more complex issues at play, with customers placing growing importance on an organisation's ethical credentials – from approaches to environmental issues to the treatment of employees. Empathy and care are critical aspects of customer experiences that have high personal importance, or when dealing with vulnerable customers.
On the other side of the coin, the biggest 'trustbreakers' for customers lie in hidden costs, product defects and inequitable charges for the same product or service. In a world of "fake news", and growing mistrust of online information, it's also not surprising to see manipulation of online reviews as a key breaker of customer trust in an organisation.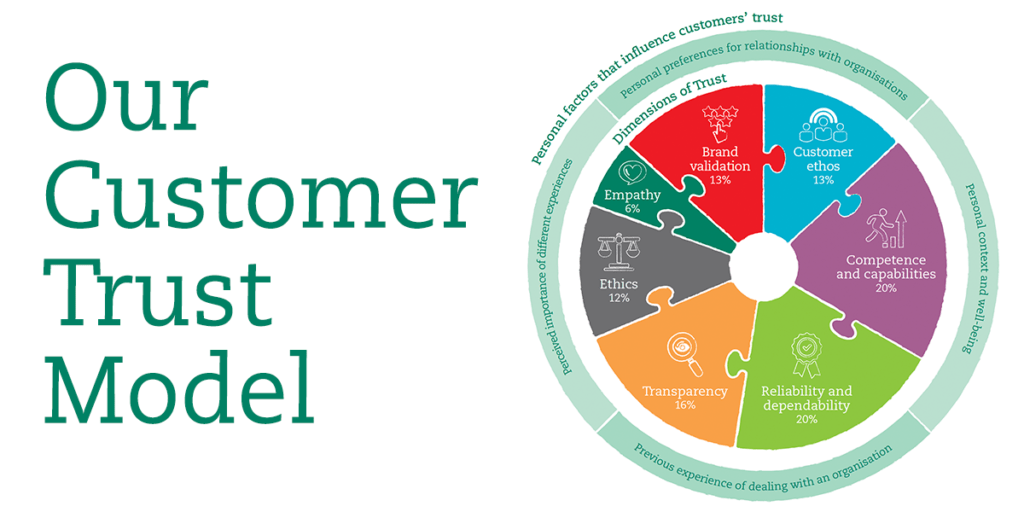 Despite its intrinsic link to customer satisfaction and business performance, our research suggests relatively few organisations actively measure trust or deliberately create strategies to improve it. As we look to recover from the devastating impact of the pandemic, and cash-strapped customers increasingly 'vote with their feet', leaders can steal a march by building and maintaining customer trust into their recovery plans.
This means looking beyond simply introducing a set of actions or initiatives, to really building a long-term commitment and purpose; embedding principles of empathy, honesty and genuine communication into the fabric of our organisational values. In doing so, organisations can rebuild, and in doing so, create long-term customer relationships that will see them thrive long into the future. At The Institute we have created a model (see above) that demonstrates the core dimensions required to build and sustain trust and all of us should reflect on these to help us build strategies and business solutions for the long term.
You can read the full findings of our research (free for organisational and companion members), and as always I welcome any feedback, thoughts and observations as we move this agenda forward.