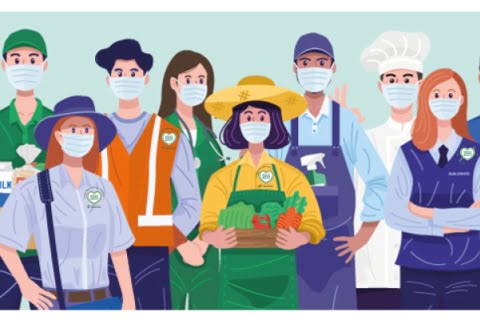 By Jo Causon, CEO, The Institute of Customer Service
As we approach a year since Covid-19 restrictions came into force across the UK, it's hard to believe that we are still navigating a lockdown situation. Despite the great hope offered by the rapid vaccine rollout and the upcoming easing of restrictions, it is clear that the impact of the past 12 months has had a deep impact on the consumer psyche – the repercussions of which have been felt across all aspects of society.
This week, we released new research into the effects of an increasingly frustrated and disenfranchised public on customer-facing employees. Our research led to the campaign being featured across the BBC's TV and radio channels, some of which you can see here.
Over half of those we surveyed felt that customers have become less tolerant over the course of the pandemic – with instances of abuse and hostility (ranging from being shouted and sworn at to, in extreme cases, physically assaulted) on the rise. More worrying still, over half fear that the situation will only get worse over the coming weeks and months.
This is of course enormously concerning – especially when we consider that the issue is affecting employees across multiple sectors. Through our research and conversations with our members, we've heard worrying reports come out of nearly every sector, in particular retail, public services, transport, infrastructure, utilities, housing and financial services. And it is not only restricted to those dealing with customers face to face – those working in contact centres are increasingly reporting instances of hostile customer interactions over the phone or online. When we consider that these employees are often working from home, without easy access to the supportive words of peers and colleagues, the psychological impact of these interactions cannot be overlooked.
Of course, any form of abuse or hostility is always unacceptable, but it is particularly concerning when we consider that customer-facing staff have been at the very forefront of efforts to keep the nation running throughout this crisis, working tirelessly to ensure we receive access to the vital services we need. And as we look ahead to the future, these are also the very people who will be critical to pulling the nation out of recession. With nearly 80% of the UK's GDP coming from the service sector, our economic recovery from this crisis will require enormous efforts from customer-facing staff across every sector. They deserve not only our support, but our respect.
This is not simply a matter of care and decency, but also a critical business necessity. One of the many shifts in customer behaviour we have seen since the start of the crisis has been an increased focus on organisations "doing the right thing"; showing genuine care for their customers and employees. Reports of staff being mistreated without adequate support could lead to significant reputational damage for organisations, and send customers (most of whom our data shows see protection of staff as an important issue) into the arms of a competitor.
We continue to champion our Service with Respect campaign, calling for Government and businesses to do more to protect our frontline customer-facing staff. With the support of over 130 organisations, as well as MPs from across the political spectrum, we are calling for a new, standalone offence for those who assault customer-facing employees. We are also looking to organisations to ensure their people have the level of support and training they need to handle the challenging and ever-growing requirements of their role.
To recover from the impact of this crisis, both economically and as a society, we should seize the opportunity to 'build back better'. And this starts with creating a safe working environment for our essential service workers – free from abuse.
See here more information on our Service with Respect campaign and how you can get involved.