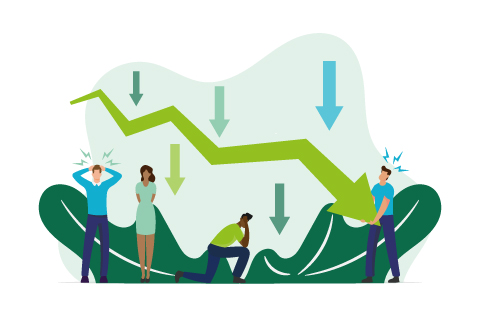 It's been a busy couple of weeks since our latest UK Customer Satisfaction Index was published, showing the sharpest drop in customer satisfaction since 2008 – and the worst score on the index since 2015.
We should have perhaps expected some of this decline. Many organisations have – as has been well documented – been under-resourced and have not yet properly embedded and tested the new technology, which is seen as part of the solution to the current travails. In addition, widespread industrial action, high inflation, and ongoing cost of living pressures on consumers offer some explanation for the scores. However, these results should serve as a sobering reminder that Boards really do need to approach the whole customer experience as a strategic business imperative, not a cost to be squeezed at the expense of customer trust, loyalty and repeat business.
What is also interesting is the critical but less obvious reasons behind the fall that we should all consider – it is taking longer to resolve issues, primarily due to less staff, as businesses are still struggling to recruit and retain people – and the fact that the tech is still not able to bridge these gaps. The tech, it is clear, is now helping with a lot of the back-office aspects of work, but where it fails, the escape hatch to a real person needs to be easy to find. Removing service options for customers does not necessarily result in improved efficiencies or effectiveness and listening to our front-line colleagues who are dealing with these service failures day in and day out is even more important.
The focus needs to be on providing the right service solution for the customer in a manner that they find effective. And this is all about a genuinely blended approach.
What is also concerning is that our customer service colleagues are clearly feeling the strain and, in some cases, are now showing it. All of this leads to a vicious cycle – colleagues under pressure, customer satisfaction declines further, productivity falls and of course costs go up. The latest figures in the UKCSI remind us the cost of poor service is a whooping £9.8bn every month.
How do we turn it around?
The customer experience needs sustained focus and investment as a core part of any business and shouldn't be stripped back when times get tough. There needs to be a sense of empowerment and purpose with staff trusted to deliver for the customer, particularly in tough times.
Understanding your customer journeys, channel preferences and attitudes towards different service approaches is crucial. Technology will play an important role and can help ensure customers are quickly directed to someone with the necessary skills and expertise, who can solve their issues promptly and professionally.
The latest UKCSI, as with all our research pieces, provides both the big picture view and the tangible, actionable recommendations to make a difference in your organisation. And whilst the UKCSI headlines may look negative, the insights and evidence show that with the right culture and attitude towards the customer – driven consistently from the very top – delivers value for customers and a return on investment for businesses (see the banking net account gains and supermarket market share analysis in the UKCSI for more on this).
In conclusion, this set of results illustrates the urgent need to press the stop button on the business-as-usual head-above-water activities to provide the headspace for proper consideration as to how we get out of this lack of (senior time) investment in the urgent problem in hand.