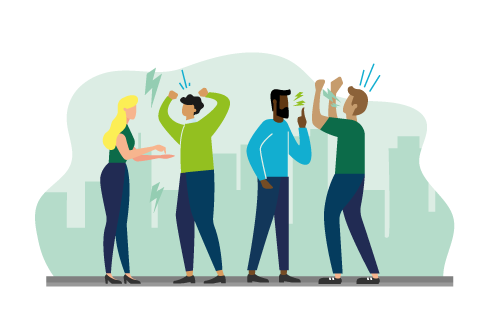 We are, as we all know, living in challenging times with what feels like a significant rise in anti-social behaviour being reported across the UK, which is manifesting itself in different ways and impacting on business, individuals and wider society. The question we are all probably asking ourselves is how we address these issues, which are complex and multifaceted.
In recent weeks, there has been much discussion about the use of preventive measures, including Tesco announcing body-worn cameras for some staff, with a mixed reaction from consumers. Whatever people feel about these latest measures, we need our workforce to feel protected and supported.
While we take pride in the progress we've made, including legislative changes that introduce tougher sentences for perpetrators, there's still much work to be done. So, how can we address the challenges we face and take steps to create a safer, more respectful environment for service professionals?
National Customer Service Week is just around the corner, and again, it includes a special focus on Service with Respect Day on Tuesday. This day serves as a reminder that customer service professionals deserve our gratitude and respect. It's an opportunity to renew our commitment to tackling abuse and anti-social behaviour against these hardworking individuals.
Despite the inroads we've made, the scale and impact of abuse towards public-facing workers is still alarming. These incidents range from verbal abuse to physical attacks, creating a hostile daily work environment for many. To decisively address this, we are calling for four things:
The Need for Better Reporting
One of the key issues is the lack of detailed and segmented reporting by the police and judiciary. While the change in law has been a step in the right direction, we need these institutions to separate out attacks on public-facing workers from other abuse figures. This will help us understand the scale of the problem and tailor our interventions more effectively.
Training and Tools for de-escalation
Equipping our workers with the right training and tools is essential. They should feel comfortable dealing with difficult situations and have the skills to de-escalate confrontations where possible. This not only protects the worker but also ensures a safer environment for customers.
Faster Police Response
When incidents are reported, the police need to respond more promptly and more often. Failure to attend a serious incident or a delayed response risks sending a signal that the victim is not important and can discourage workers from reporting future incidents, perpetuating the issue.
Elevating the Service Profession
For the service industry to attract more—and more talented—people, it needs to be a profession that is respected and safe. This involves taking the pressures on customer-facing workers seriously and making concerted efforts to alleviate them.
It is important to note there is a difference in abusive behaviour and organised criminal activity that we are seeing at some retail stores, although the impact on the service professional can sadly be similar. This type of abuse is happening across a range of sectors – from contact centres to those working in frontline roles in utilities, telcos and the public sector. Both are pressing issues, and the impact on the service professional can be the same, but they will require different approaches and solutions.
If your organisation isn't yet signed up as a supporter, we invite you to join us in supporting the Service with Respect campaign. We are also calling for CEOs and other business leaders to sign our open letter, which advocates for the changes outlined above.
We have recently published research on the professionalisation of our industry, and it's clear that if we want to attract more talent, we need to make them feel valued and respected. This will be Wednesday's theme as part of National Customer Service Week, so let's renew our commitment to making that happen.
Together, we can create a better, safer work environment for everyone and start to rebuild the bond of trust between our frontline people and our customers. To create the growth we need as part of the Service Nation. I look forward to hearing how you are marking NCSW.