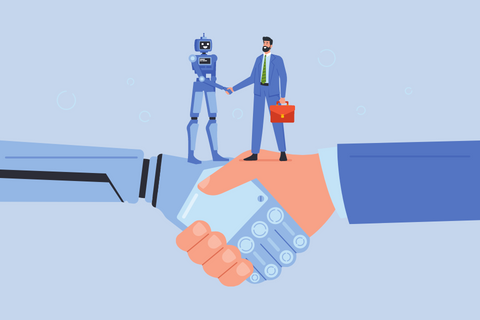 This week, we launched our latest insight report – "A Connected World? Ensuring the right blend of people and technology for customer service". In it we highlight both the potential of technology, but also the rising levels of frustration from the public when the tech doesn't work.
In our research, we examined the different ways in which organisations are deploying technology in a customer service context and customer attitudes toward the use of digital solutions. It is clear that the vast majority of us are happy and keen to use well-designed customer experience technology, despite concerns over inflexible and frustrating systems. Indeed, our research reveals that well-designed applications are less likely to cause frustration than a one-to-one telephone call with a real person unable to resolve an issue.
This is especially true within the banking sector, where necessary anti-fraud measures, better suited to interaction through well-designed and secure smartphone applications, have powered excellence in customer experience. However, efficient systems and simulated natural language systems can only take customers so far. It is clear from our research that both customers, and indeed the majority of businesses, strongly believe that access to a human operator is an essential option in the delivery of effective customer service.
This importance of being able to bypass decision trees and waiting times to engage with an empathetic individual able to swiftly resolve issues has grown since the pandemic, with 68 per cent of businesses we surveyed stating it is now more important to offer this to their customers than pre-2019. And here's the rub in our research: as businesses face ever tougher operating conditions, our research – with a sample of over 300 UK managers and employees – suggests that twice as many organisations are deploying technology, primarily to reduce costs than are introducing it to improve customer experience. I strongly believe this is a false economy: excellent automation and excellent service are not mutually exclusive, but should always be guided by the customer experience.
As is so often the case in the progress of technology, we must continue to keep an eye on those excluded from its benefits through lack of experience or ability. What most worries me in our report is that just 57 per cent of a sample of UK managers and employees said that their organisations had ensured that customer service technology had been tested to consider the needs of potentially vulnerable excluded customers, and fewer than half were sharing their best practice with other organisations. This is not good enough, and we need to continue to meet the needs of our most vulnerable customers.
In addition, there is a group of customers who are digitally excluded, and around a quarter of the British public have had to step into the breach, helping family and friends navigate customer services for home essentials which were previously provided to them face to face on the high street or directly over the telephone. Technology cannot adequately replace human contact in the context of issues of personal importance which require sensitivity, discretion, and judgement. As the cost-of-living crisis intensifies, there is likely to be an increased need for empathy and reassurance. Organisations need to plan how they resource for more, not less, customer contact.
In a week where the UK government announced self-driving vehicles on our roads by 2025, the capabilities of autonomous technologies are accelerating to a level beyond what I ever expected to see in my career. However, whatever the capabilities of technology to ease and reduce the expense of our journeys, we should never forget our destination is most often contact with friends, family, colleagues, and experiences that no computer can simulate.