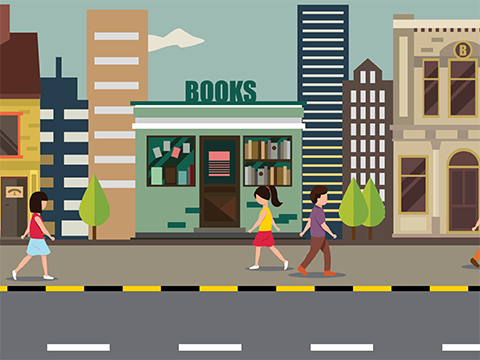 It has been over a month since non-essential outlets across the country were finally allowed to open their doors. Yet, as consumers tentatively emerge from lockdown, it is evident that the new world they are stepping into looks vastly different from the one they left behind. A walk around our town centres now shows mandatory face masks, sanitising stations and long queues outside outlets – and despite cheery signs in windows welcoming customers back, there is no forgetting that we are still very much in the midst of a global pandemic.
Whilst customers are beginning to return to physical outlets, they are doing so cautiously – and footfall figures remain down significantly on pre-pandemic levels. The impact on organisations has been brought into sharp focus, with daily headlines reporting mass outlet closures and job losses. In truth, it is too soon to tell the permanent impact of the pandemic on customer behaviour, but what is clear is that organisations and government must start to think differently in order to maintain a role for high streets in the new era.
The issue isn't entirely new; the high street was facing challenges long before Covid-19 hit, particularly due to the growing number of customers shifting towards digital interactions. With physical access restricted during lockdown, customers began to turn to online platforms at an even greater pace, not only to purchase items, but to access a full range of services and support. This shift will inevitably cause concern for high street brands, and many are reassessing the role of physical premises in the future of their business.
Yet, before making quick decisions, organisations should consider the important role physical outlets still play in the customer experience. Many high street brands, from banks and pharmacies to travel agents, are incredibly important for vulnerable and elderly customers – and those dealing with difficult and sensitive service issues are still inclined to want to speak to an employee face to face The key for businesses lies in striking the right balance between human and digital interaction; maintaining a laser-sharp focus on the changing needs of their customer base and remaining agile enough to quickly adapt their service offering to meet them.
Our most recent All-Party Parliamentary Group meeting on Social distancing and the future of the high street highlighted some reasons for optimism. Whilst the crisis has inevitably caused challenges for the traditional high street, it may also have presented an opportunity. The past few months have brought people closer together – and borne greater desire to feel connected to the local community. High streets offer more than a functional role – they are local hubs; central points to bring the community together. What's more, as demand rises from employees to work closer to home post-pandemic, there is a significant opportunity for organisations to repurpose local outlets as regional working hubs.
The pandemic has undoubtedly presented huge challenges for our high streets, and the businesses within them. But it has also presented an opportunity for reinvention. Organisations and local councils must explore new options for buildings and spaces – thinking creatively in order to adapt to new trends, rather than try to revert to life as it was before. In doing so, we could create a better future for our towns and cities, breathe new life into local communities and build a stronger service nation.