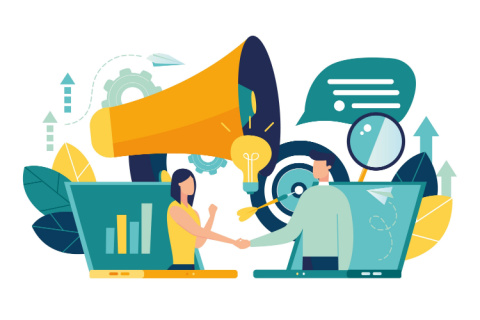 Two thirds (64%) of customers are willing to pay a little more with companies they trust.
82% say they are more likely to trust an organisation that gives them better service.
New research by The Institute of Customer Service highlights the increasing need for organisations to focus on earning customers' trust.
Trust holds the key to maintaining customer spending throughout the cost of living crisis, with 64% of customers willing to spend a little more with a company that they trust, according to new research released today.
As customer confidence falls to a historic low of -19%*, the poll of 1,000 customers from The Institute of Customer Service found that 81% hold trust as a very important factor in deciding whether or not to use an organisation and 95% are likely or very Likely to remain as a customer of a business they trust.
The research underlines the extent to which customer service, customer satisfaction and trust are interlinked. The top drivers of customer trust in organisations are that their product or service is good quality (61%) or reliable (56%) – with 82% reporting they are more likely to trust an organisation that gives them better customer service.
Jo Causon, CEO of The Institute of Customer Service, comments:  "The appeal for businesses is clear – providing better service increases customer trust, and in turn customer retention and recommendation. In the face of a challenging economic environment, maintaining consumer trust can mark the difference between success and failure. But more than that, given the connection between satisfaction and trust, organisations with poor customer service place themselves as risk of wider reputational damage."
Trust is also key to attracting new customers – with over three quarters (77%) of those who trust an organisation likely or very Likely to leave them a positive review online or recommend them to family and friends (94%). Conversely, those who have low trust in an organisation are likely to actively discourage others from using them (67%), stop using them (67%), look for an alternative organisation (78%) or leave them a negative review online (55%).
When considering making a purchase from a new business, consumers said the main things a company can do to boost their consumer trust are to give visibility of genuine  customer reviews and testimonials (59%), have transparent pricing from the very beginning  (46%), and ensure the product does what it says on the tin (41%).
Causon continues: "As external shocks and crises create an increasingly complex and unstable customer environment, inspiring customer trust is critical. Businesses must focus not only on getting the basics of quality and reliability right, but also providing a level of empathy and reassurance to guide customers through challenging times."
The new Trust Index is an independent in-depth measure into the specific drivers of trust and what makes and breaks it. The independent survey measures perceptions of how brands perform across the Seven Drivers of Trust, indexed against other UK businesses. The index will be available to members only as an additional product at a fee.
* Deloitte Consumer Tracker July 2022
---
Notes to editors:
The research is based on a poll of 1000 panel members across the UK via the TLF panel in October 2022.
For further information:
The Institute of Customer Service Press Office:
Claudia Wilson
instituteofcustomerservice@goodrelations.co.uk / cwilson@goodrelations.co.uk
+44  (0)7385 392 394
About the Institute of Customer Service:
The Institute of Customer Service is the UK's independent, professional body for customer service. The Institute helps organisations improve business performance by providing an excellent customer experience aligned to their business goals. It is the leading voice championing service and the secretariat for the All-Party Parliamentary Group on Customer Service.
For more information visit: www.instituteofcustomerservice.com