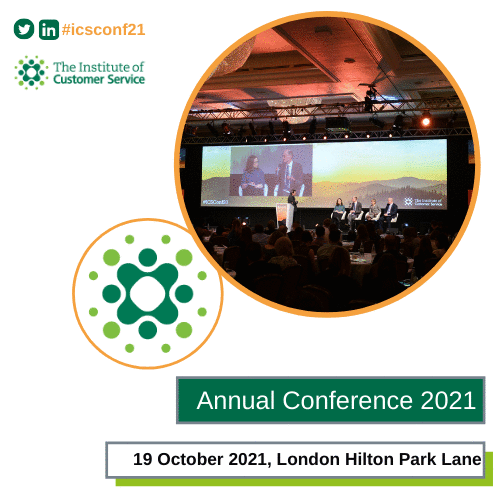 Annual Conference 2021: Redefining the Service Nation – Building a better future
The Institute of Customer Service Annual Conference is the biggest forum for customer service thought leadership and best practice in the UK. The event draws hundreds of service professionals and business leaders together to learn from examples of global service excellence and share best practice.
The effects of this crisis will be felt for years to come – and businesses should be prepared for turbulent times ahead. Applying the lessons learnt over the last year, and maintaining a focus not only on short-term survival, but long-term purpose, will survive and flourish long into the future.
Join us on 19 October for our Annual Conference, we have a real opportunity to think creatively and re-shape our future – building back better to provide a working environment that delivers for both businesses and employees.
Terms and Conditions:
Please note that tickets are non-refundable or transferrable in terms of date. If for any reason you are not going to be able to attend, we will accept a replacement person, subject to at least 48 hours prior notification.
The Institute are working closely with London Hilton on Park Lane to ensure that this will be going ahead as a live event and in the safest capacity possible. Please find the Covid-19 Safety details here. These procedures and seating arrangements are subject to change based on the Covid-19 Government guidelines. Neither The Institute nor the venue can accept liability liable for any illness sustained following attendance of the event.