Thank you to everyone who shared their NCSW activities and interactions with us throughout the week – your commitment to delivering outstanding customer service is truly inspiring, and it is organisations like yours that make a significant impact on customer experiences.
We thoroughly enjoyed seeing your efforts shared on social media and how you celebrated throughout the week in your organisations. Below are some of our highlights from LinkedIn and Twitter.
We are sorry if you have not been featured – we had too many to include all of them! You can follow the #NCSW2023 hashtag on Twitter and LinkedIn for more posts.
We hope you enjoyed the week and we look forward to seeing you in 2024!
Listen to our CEO, Jo Causon, discuss some of this year's National Customer Service Week highlights:
Key sessions this week: video recording
 | Monday:
We started National Customer Service Week 2023 by discussing the future of AI. David Dagger, Director of Comms and Corporate Affairs at the Institute, was in conversation with Simon Shaw, Director, Digital Care at Virgin Media O2 during our AI webinar. They discussed the impact on customer service and the challenges and ethics in the adoption of AI in a service context.
 | Tuesday:
Tuesday was Service with Respect Day. We asked you to join us in supporting our vital campaign and highlighting the recent change in legislation which now protects all customer-facing workers from hostility and abuse. For a quick overview, watch our Service with Respect Day video featuring our CEO, Jo Causon.
 | Wednesday:
On Wednesday, we discussed how to build recognition of service as a valued career and profession, with a significant voice and position in the boardroom. Our recent report, 'Building the Service Nation: Changing Perceptions about the Profession of Customer Service', identified what actions are necessary and by whom to build recognition of service as a defined career and recognised profession.
Rewatch our Breakthrough Research Launch Webinar recording for an overview of the recent research results.
 | Thursday:
On Thursday, we discussed the link between sustainable growth and long-term success.
Watch our member interview with Helen Luty, Head of Customer Experience at Landmark Information Group. Helen talked about the journey her team embarked on to gain the ServiceMark accreditation and the impact it has had so far.
 | Friday:
Friday was all about celebrating those people that have succeeded through adversity and made a significant impact on your customers.
We held a NCSW-exclusive UK Customer Satisfaction Awards webinar, where we shared our top tips on writing winning award entries and heard from some of our previous winners and Chair of Judges, Mike Faulkner.
Our Service with Respect training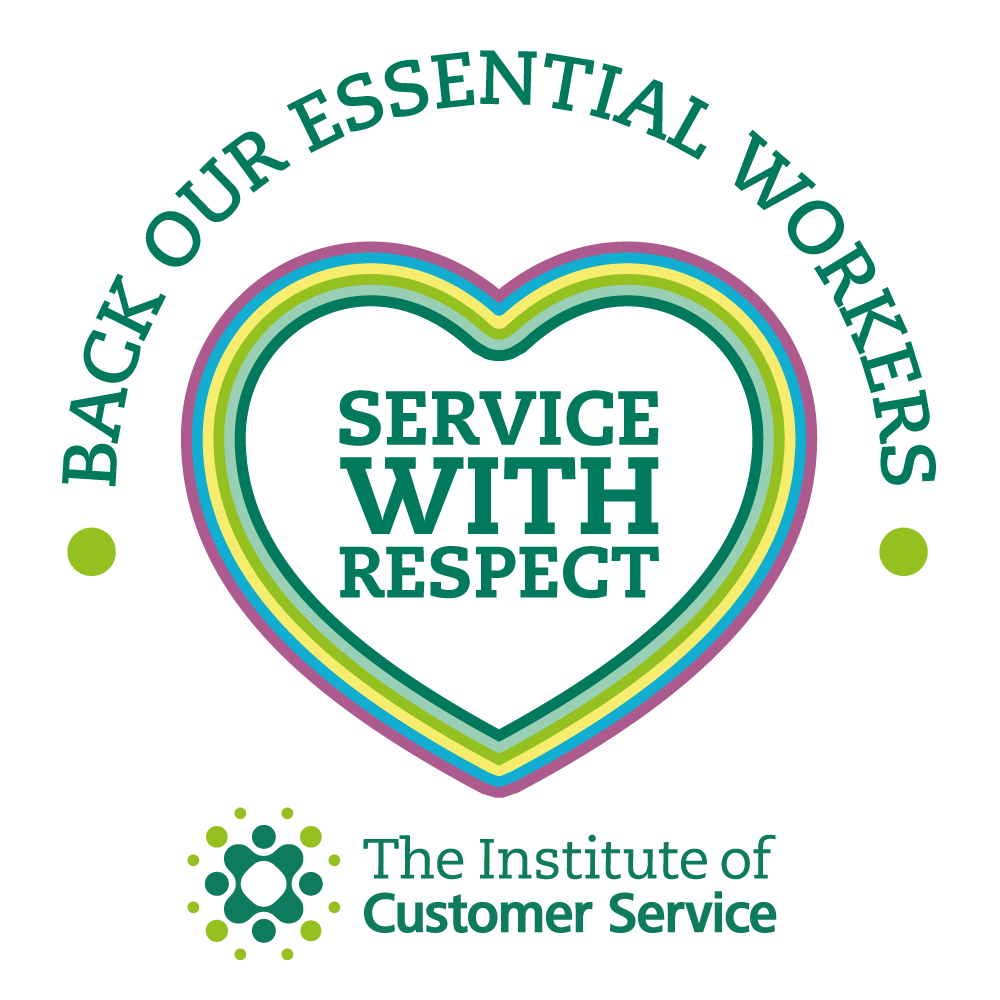 Following requests and suggestions from our members, our Academy has launched a series of training modules and workshops designed to help your organisation deal with challenging customer interactions and customer vulnerability with confidence.
Our Academy Workshops are available to Trusted Advisory Network (TAN) and Discovery Roadmap (DR) members only. If you would like to find out more about membership, please go to
Organisational membership
.
Customer Service Heroes Competition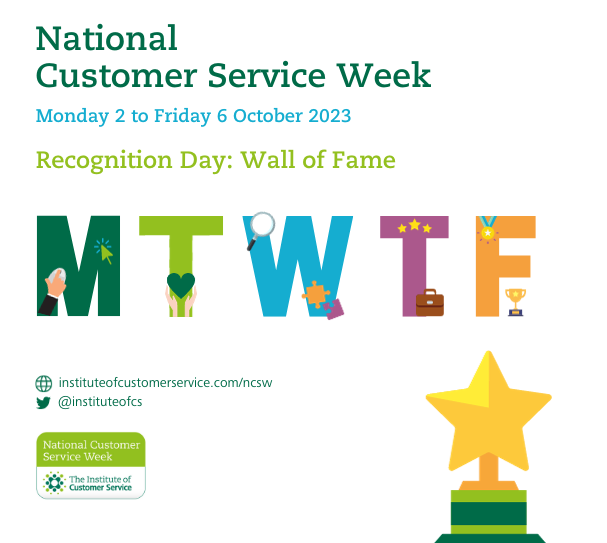 To round off the week we held a Twitter competition asking you and your colleagues to vote for your organisation's Customer Service Heroes.
In celebration of National Customer Service Week, we asked you to share your winners with an example of their achievements using the hashtag #cshero on Friday.
Selecting a winner out of the numerous entries received was not an easy task. We loved seeing all of your customer service heroes in action, and the winner is… Brandon Lee from FM Outsource – congratulations and well done!
Key NCSW resources from some of our members:
NCSW 2023: Social Highlights
Now out to say a National Customer Service Week thanks to station teams who help look after our customers including @GNRailUK's Christian and Cheryl at Stevenage, @LNER's Sonia and Kai at Grantham, Kevin, Wendy and Charlotte at Retford and @GC_Rail's Andy at King's Cross. #NCSW23 pic.twitter.com/KZyCPo4wAr

— Martijn Gilbert (@NEMartijn) October 6, 2023
Hearing stories like this from our customers really puts into perspective the amazing work our colleagues do every day 💛

Ursula's story is one we'll never forget, and the compassion Clare showed during this time really is second to none.#NCSW2023 #CustomerService pic.twitter.com/Zt0tI4Gkwy

— Yorkshire Housing (@yhousing) October 6, 2023
To celebrate the start of National Customer Service week, we'll be giving out free hot drinks on trains with a catering service today! ☕

Please speak to our lovely Customer Hosts on-board and they will be happy to serve you a free cuppa. #NCSW2023 pic.twitter.com/SlfQs2QO4S

— TransPennine Express (@TPExpressTrains) October 2, 2023
It's National Customer Services Week so we're celebrating our customer services team and this week will put faces to some of the voices you hear on the phone. Today, Iuliana tells us what working in our customer services means to her...#NCSW2023 @instituteofcs pic.twitter.com/yPjaO27wkP

— Raven Housing Trust (@RavenHT) October 3, 2023