ServCheck is a powerful tool that measures your team's alignment and engagement with your customer service strategy. It provides an independent measure and framework to drive a service culture across all areas of your organisation.
Things you should do before you get to the portal:
Set up your survey timeline
Gather participant data
Ask your IT to whitelist ServChecks IP address: 149.72.173.240 to ensure a successful delivery of the invites
Send survey warmup communications to your employees
Follow the guidance below to get started:
Requesting a ServCheck account
1. Access the ServCheck platform by clicking this link
2. If you haven't used the portal before click on the Request Account button
3. If you have already registered as an account user click on the Login button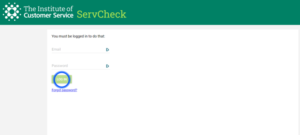 Complete the "Request a ServCheck account" form
4. Once you land on this page fill in the details and click Submit
5.You will then receive an email to let you know your account is approved and you will be prompted to create your account password (it will take up to 24 hours to approve)
6. Once you have done this, you can then login and create your survey
Create your ServCheck survey
7. Once logged in, click on Create a new survey button
If you don't see this button, please get in touch with your Client Relationship Director

8. Enter survey name 
What name do you want to give your survey?
The name picked will be used in your report
9. Select whether you want to collect participant information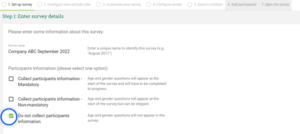 10. Select your Client Relationship Director from the dropdown list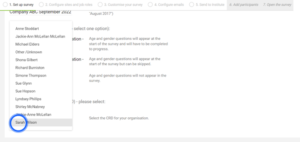 11. Click Next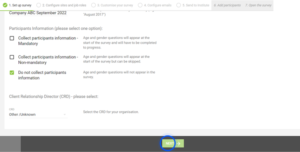 12. Configure job roles
You can change the names of the job roles to align with your company hierarchy or leave them as they are. For example: Director "we call it" Head of Department. You also have the option of adding example job roles by clicking on "add example":

Number of people – input the total number of staff your organisation has in each job role (for the business areas you are surveying)

13. Add an extra site – if your organisation is planning to conduct a multi-site survey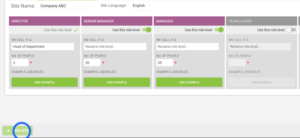 14. Customise your survey
You can add your organisation's logo to the survey. The logo will be shown on each page of your survey.
Collect department – you can segment your survey results by departments or divisions within your organisation. This feature shows how different departments score on your survey and displays the response level by each department.
Use department breakdown – you can dig deeper into your departments' performance using our bundle feature. It will help you identify the top 5 & bottom 5 questions in each of your departments and show how different departments score on ServCheck dimensions. Department feature is chargeable, speak to your Client Relationship Director to get a quote.
Add extra questions – You can add up to 5 customised questions to your survey (open text or on a rating scale). The questions will be positioned at the end of your survey.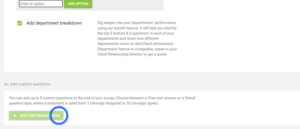 15. Customise your emails
Please note: If you're using a generic link, the portal won't send any email to your participants, so you'll need to include the link in your communications about the survey.
You can customise the invite and thank you emails sent out to your participants. These custom emails apply when you choose later to send out a unique survey link to each of your participants.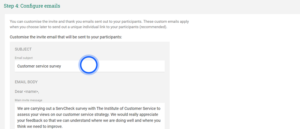 You also have the option to preview your email and send yourself a test email to ensure that your organisation can receive emails from ServCheck.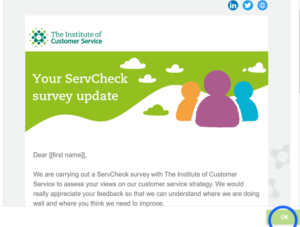 You can also send a thank you email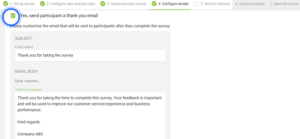 16. Preview your survey by clicking Preview Survey

Send your survey for approval by clicking Send to Institute
Once approved you will receive an email confirmation to finalise your survey (it will take up to 24 hours to approve).

18. Click Continue set-up

19. Send the survey to your colleagues
You have 2 options to send the survey to your staff:
1)Via unique link (the survey invite will be generated and sent from the portal). You can upload all your staff email addresses by clicking Bulk Upload or add staff details (email, name, surname) one by one.
2)Via generic link (you will have to send the survey invite yourself) – 1 link for all participants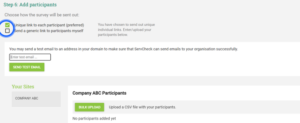 20. Click Open survey
If you used a database: once you click Open survey, the email will be sent out automatically to your staff and your survey will start collecting responses
If you opted for a generic link: you'll get access to a link to send out to your colleagues directly

Understanding your dashboard
 Your items: your list of survey(s) and report(s) that have been completed or are live

Status: Open (if the survey is running) or closed (if the survey has reached the minimum quotas)
Overall completion: gives you the completion rate your survey has achieved so far
Overall completion by role level: gives you the completion rate by job role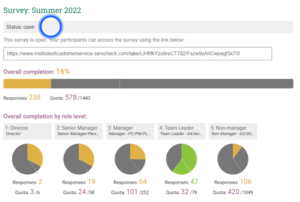 Closing a survey
21. When the survey has reached the required quotas, Request to close survey button will appear on your dashboard (all job roles will display a green diagram), click it to close the survey.
22. If the required quotas haven't been met, but you still want to close your survey, contact your CRD who will confirm the survey closure to you.
Downloading your report
23. The reports are only available once a survey is closed. You can see all the slides prior to downloading them by using the menu on the right.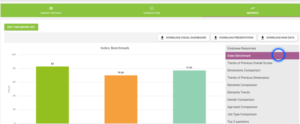 24. The presentation, raw data and dashboard can be downloaded by clicking Download. The presentation and dashboard will be in a PowerPoint format, the raw data will be in an Excel format.
If you need any support with ServCheck please contact your Customer Relationship Director or call us on 0207 260 2620.