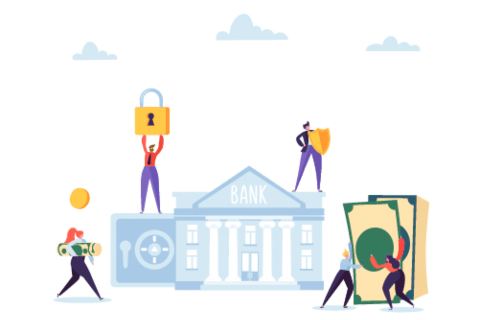 The latest UK Customer Satisfaction Index (UKCSI) from The Institute of Customer Service reveals customer satisfaction with banks and building societies is at its highest point since the UKCSI began in 2008, with a score of 80.4 points (out of 100). The gains are due to marked improvements in complaint handling, companies getting things right first time and the quality of online experiences.
The latest league table of the top 10 best brands for customer service in the UK reveals four are financial institutions with Yorkshire Bank, first direct, Nationwide and M&S Bank all highly ranked: July 2018 UKCSI, Top 10 companies.
1. Amazon.co.uk
2. John Lewis Retail
3. = Next Retail, Yorkshire Bank
5. = first direct, Nationwide
7. Tesco Mobile
8. = M&S Bank, Wilko Retail
10. Iceland
The UKCSI report shows that banks with the highest levels of customer satisfaction have been the most successful in gaining or retaining current account business. Financial institutions with customer satisfaction scores above the sector norm averaged current account gains of 8,675 compared to an average net loss of 3,457 for those whose customer satisfaction was lower than average.
Jo Causon, CEO of The Institute of Customer Service, commented on the report: "In these uncertain economic times, the strong showing from the banking sector in the UKCSI demonstrates how important it is that organisations keep calm and keep the basics of good customer experience at the forefront of their strategies and operations, with current account data showing consumers are more likely to bank with the those banks with the highest customer satisfaction scores. With improvements in customer service worth £81.5 billion* to the UK's GDP through repeat custom and recommendation, where satisfaction is maintained organisations will see a direct link to turnover growth, profitability and productivity."
Almost a decade on from when the Government had to bail out several high street banks, the sector is currently the third highest-scoring sector (out of 13) for customer satisfaction in the UKCSI. The sector now scores 2.5 points higher than the UK all-sector average of 77.9 and is 1.1 points above the insurance sector. Compared to this time last year, the average UKCSI score for banks and building societies has improved by 0.7 points, compared to a decrease of 0.3 points in the UKCSI all-sector average; this was the largest improvement by any sector.
The top 10 banks and building societies in the UKCSI are as follows:
1. Yorkshire Bank
2. = first direct, Nationwide
4. M&S Bank
5. Santander
6. TSB
7. Halifax
8. Virgin Money
9. Barclays
10. Bank of Scotland
Yorkshire Bank is among the top five most improved organisations in the whole UKCSI, with a score of 86.1, up 5.7 points on this time last year. First direct (85.6), Nationwide (85.6) and M&S Bank (84.4) also score well above the sector average. Ten financial institutions score below the sector average in this UKCSI, with RBS receiving the lowest score of 76.4. When asked about how customer service could be improved, a quarter (25.4%) of customers said making it easier to contact the right person to help is the top priority organisations should fix.
Customers' use of smartphone apps as a form of conversation in this sector have increased and accounts for a greater proportion of interactions (5.7%) than in any other sector. Customers who use an app to interact with their bank show relatively high levels of customer satisfaction with a score of 83.4. However, consumers' satisfaction with customer service from banks over email has declined over the last two years and is currently 0.4 points lower than the UK all-sector average (71.2). Jo Causon continued: 'The growth of the use of Apps and the high levels of customer satisfaction it attracts demonstrates significant potential to make experiences easier and more convenient for many customers.
Many organisations are now testing artificial intelligence to deal quickly and efficiently with customers' queries. However, most banks serve a wide variety of customers who want to interact with them through a mix of traditional and new digital channels. In order to sustain improvement in customer satisfaction, banks will need to focus on providing consistent levels of service across the full range of channels used by customers.
The UKCSI is recognised as a national measure of UK customer satisfaction. It rates customer satisfaction at a national, sector and organisational level across over 250 organisations and 13 sectors. Thirty different considerations, such as staff professionalism, quality and efficiency, and complaint handling, are factored into the results. It is published twice a year, in January and July.
To find out more, and to download the full UKCSI report, visit: https://www.instituteofcustomerservice.com/research-insight/ukcsi/
Notes to editors
About The Institute of Customer Service
The Institute of Customer Service is the professional body for customer service delivering tangible benefit to organisations and individuals so that our customers can improve their customers' experience and their own business performance. The Institute is a membership body with a community of over 500 organisational members – from the private, public and third sectors, and over 3,000 individual memberships. For more information about The Institute of Customer Service go to www.instituteofcustomerservice.com.
About UKCSI
UKCSI (UK Customer Satisfaction Index) is The Institute of Customer Service's national measure of customer satisfaction. It provides insights into the state and direction of customer satisfaction at a national level, across 13 key sectors and for individual organisations. UKCSI was launched by The Institute of Customer Service in 2008. It provides a unique way of measuring the current customer satisfaction of UK customers, as well as trends over time. The July 2017 UKCSI results included in this report are based on 43,500 survey responses. Each response is a completed online questionnaire relating to the customer experience with a specific organisation. These responses are provided by over 10,000 individual customers. The respondents are representative of the UK adult population, according to region, age and gender. The ONS reports the monthly turnover of the UK's service sector. Across the nine months of 2017 that the data is available for, the average turnover per month is £166 billion. 45% of this (the number of organisations who, according to Institute of Customer Service analysis, fall below average for customer satisfaction) equals £74.7 billion. On a monthly basis, a 9.1% increase in turnover would be £6.8 billion. Across a year, that's equivalent to £81.5 billion.