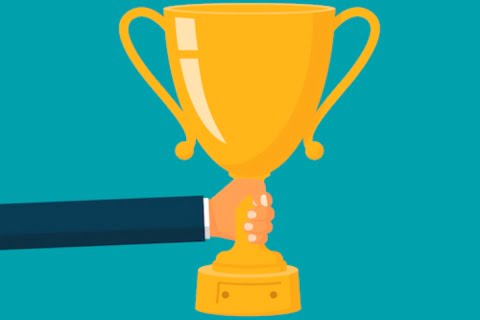 Thirteen organisations from a variety of UK industries have been unveiled as the country's best for customer service at the 2018 UK Customer Satisfaction Awards ceremony, held at the Hilton on Park Lane, last night.
Now in its eighth year, the annual awards ceremony celebrates UK customer service achievements across the public, private and voluntary sectors. Run by The Institute of Customer Service, the awards have been created to showcase the organisations who place the customer experience at the heart of their business strategy and build a sustainable culture of customer service within their organisation.
Organisations from a variety of sectors were recognised for their achievements at the prestigious awards ceremony. Of the 125 shortlisted organisations and individuals, some were well-known high street names and brands, whilst others represented small business and the public sector, demonstrating that good customer service is vital to all organisations and industries. A total of 13 organisations and individuals were judged to have delivered the highest standards in UK customer service and were recognised for their achievements with a Customer Satisfaction Award.
Jo Causon, CEO of The Institute of Customer service commented: "What's clear from this year's entries is the extent to which organisations are determined to get things right first time, embed a customer service ethos at every level, and fuse the functional and emotional impact of experiences – which is not easy in such a competitive economic environment. And while there is no room for complacency – even amongst those who lead the pack – it suggests that we are moving towards a future where great customer service becomes the differentiator that truly makes a difference, and that's something really worth celebrating. I would like to congratulate every one of our winners, and all those who were shortlisted, and commend their unwavering focus on driving customer satisfaction."
The winners were:
Morrison Utility Services Customer Focus Award, SMECODE Student Accommodation;
TLF Research Best Return on Customer Service Investment Award, Centrica Social;
SignIn Best Application of Technology Award, TalkTalk;
Quality Service Provider Award, Honda Financial Services;
Paragon Customer Communications Best Use of Customer Insight Award, Virgin;
Money Grass Roots Best Customer Service Collaboration Award, Skanska;
UK Rant & Rave Best Customer Satisfaction Strategy Award, Her Majesty's Passport Office;
InMoment Customer Commitment Award, Disclosure and Barring Services;
Cabot Credit Management Employee Engagement Strategy Award, Electricity North West;
Pension Insurance Corporation Customer Satisfaction Innovation Award, Vizolution;
The NEC Customer Feedback Strategy Award, Nu-Heat, Underfloor Heating & Renewables AB;
Quality Monitoring Best Customer Experience Award, Barclays Wealth Management;
Hitachi Capital Customer Focus Award; Large Enterprise Award, Pension Insurance Corporation;
Auto Windscreens Customer Service Strategic Leadership Award, Jeremy Hyams, CEO, Claims Consortium Group.
Notes to editors:
About The Institute of Customer Service
The Institute of Customer Service is the professional body for customer service delivering tangible benefit to organisations and individuals so that our customers can improve their customers' experience and their own business performance. The Institute is a membership body with a community of over 500 organisational members – from the private, public and third sectors, and over 3,000 individual memberships.
For more information about The Institute of Customer Service go to www.instituteofcustomerservice.com