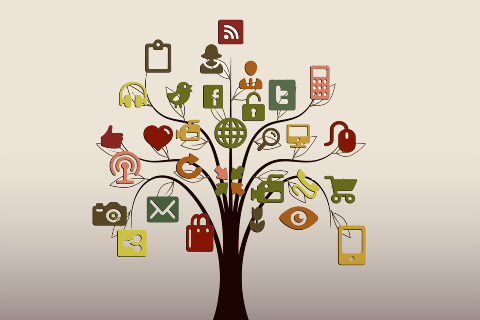 One in four social media users in the UK used platforms such as Facebook, Twitter, Instagram or Google+ to make a complaint over the past 3 months, according to the latest report published by The Institute of Customer Service.
The report, based on the views of 2,195 consumers and 12 in-depth interviews with senior customer service executives, also shows that, if traditional methods for voicing dissatisfaction aren't effective, 12 percent of customers will use social media platforms to escalate their complaint. The figures, published today, reveal a sharp climb from the 3 percent of consumers indicating they use social media to complain, in January 2014*.
However, organisations should not fear the increased level of activity on social media, as the data goes on to suggest that two-thirds (64 percent) of customers describe their interactions as 'a good experience', with just 14 percent suggesting their experience was less than positive.
The report, called 'Service Goes Social: how organisations can deliver customer service through social media' indicates that customers are also prepared to engage with brands, in a supportive manner. Many 'Like' or 'Follow' the organisations they buy from and 39 percent actively 'give feedback'. For some, online platforms are a shop window, with 31 percent turning to social media to make pre-sales enquiries.
Jo Causon, CEO of The Institute of Customer Service, comments: "We have reached a point where social media is not just a necessary component of a credible customer service strategy but one which offers powerful insights that drive better innovation, co-creation and collaboration. To make this a reality, social media needs to be a central part of a coherent, sustained and long-term focus on customer service strategy, something that many organisations are yet to do."
The Institute of Customer Service report goes on to reveal what businesses think of social media and identifies the key priorities organisations need to address to deliver high quality customer experience through online channels. For example, with customers demanding increased social media interaction because of its convenience, low cost and very public nature, organisations are urged to reduce response times, find ways to ensure round-the-clock service via social media and take responsibility for dealing with queries to avoid the reputational damage risked by highly publicised social media failures.
With customers aged 45-54 the most likely to share their experiences of an organisation through social media (closely followed by 18-24 year olds), UK businesses are also encouraged to finally bring the idea of the omni-channel customer experience into reality. The report suggests that it is too easy for organisations to assume younger shoppers are the dominant force in social media, when evidence suggests its use is more widespread.
Asked how they are responding to changing customer needs it is clear that some organisations are still undecided on how to evolve their customer service programmes. While volumes of complaints, enquiries and other engagement through social media expected to increase, some expect growth in the use of video, whilst others predict that transactions will be conducted through social media channels. According to the research organisations will need to focus on a number of key enablers to make sure a social media strategy is successful. From a people perspective, organisations must ensure employees are fully trained in how social media works and delivering a customer focused omni-channel experience.
They also need to be empowered to make quick decisions, have a broad range of soft skills, cross-organisational knowledge and the ability to exercise good judgement when dealing with customers via social media.
Causon adds: "The shift from a transactional economy to a relationship economy has been influenced and is most visible through new channels such as social media. Customers are no longer happy with one- way directional communication and expect to engage in conversations with the organisations they do business with. Organisations that do this well have a competitive advantage over those that are slow to adopt. It's all about choice and enabling the consumer to interact with the company in a way that they choose."
Notes to editors
About The Institute of Customer Service
The Institute of Customer Service is the professional body for customer service delivering tangible benefit to organisations and individuals so that our customers can improve their customers' experience and their own business performance. The Institute is a membership body with a community of over 400 organisational members – from the private, public and third sectors – and over 5,000 individual memberships.
For more information about the Institute of Customer Service go to www.instituteofcustomerservice.com