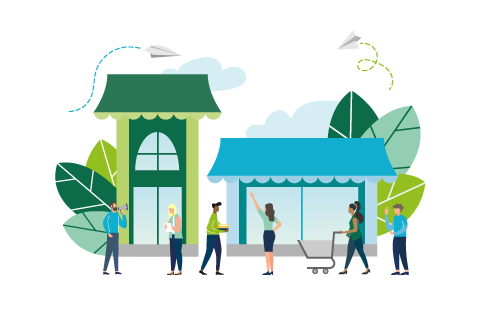 For many, the banking crisis of 2007-8 hit home the hardest when high street stores began to disappear. A perfect storm of rising costs, the growth of online shopping and dwindling footfall has seen many of our nation's high streets battling for relevance and to find their identities ever since. It may set alarm bells ringing for some then, to see news of two more high street stalwarts closing stores this week, in Wilko and Clinton Cards.
We have, in recent years, held APPG meetings and industry roundtables to discuss the future of the high street. And post-pandemic, the high street is having to reinvent itself further. What is the new role of the high street today? How do businesses attract footfall? Can technology like AI help to support face-to-face interactions in ways that add genuine value? Is it all about experiences rather than convenience? These are questions being asked in the boardrooms, investor calls and shareholder meetings of the bricks-and-mortar retailers vital to our economy and wider society.
But perhaps retail bosses would be better served looking elsewhere for inspiration over their summer holidays. Over the weekend, I was struck by the fantastic customer service I received in a small British town. The staff were available and helpful. They knew the local area (and the 'locals'), were well-trained and seemed to really care about the experience they gave customers, had high empathy and I felt connected with me personally. Crucially, they were trusted and empowered to resolve the issues that I brought to them.
Given the findings of our last UKCSI, that service levels and satisfaction are in decline across all parts of the economy, I set off to deal with my day-to-day consumer challenges with some fear as to what I might encounter. I was braced for a frustrating time at the bank I visited, but they ably solved my query – which had stumped their call centre-based colleagues. I left a happy customer and my whole weekend was better for it.
Not only am I going to tell people about the great customer service I experienced, but the result was also that I spent more money in that branch, on that local high street, spending more time and money in the community – and I feel a greater sense of loyalty to that business for the service I received.
It reaffirmed to me what we are consistently seeing in our research and data: there is an economic and reputational cost to getting customer service wrong, but a huge opportunity to return that investment and more when you get it right.
These small customer interactions, happening every day, impact how we as individuals feel. They also tell a story about how the country is doing.
For me, customer service is also about community. When we launched the UKCSI last month, I spoke to The Telegraph, who noted how the current environment mirrors many of the characteristics we saw in the 1970s – a difficult economic situation with high interest rates, inflation, and labour disputes. Whilst that might be stretching the analogy a little far, perhaps we do need a dose of the 70's when it comes to placing greater value on human interactions and conversations, engendering a sense of community and loyalty with organisations.
That human experience remains vital, and our research and data consistently backs this up. Well-trained staff who understand the customers and issues well can build long-term rapport and relationships which are beneficial for both sides. It can also build a sense of community and provide a powerful halo effect on the local area, greater than the sum of its parts.
Maybe people will one day derive a similar sense of this from interactions with AI-powered avatars in the metaverse with virtual reality headsets – but for now, speaking in person to the right person, at the right level at the right time, is still fundamental to a quality experience.
It can help create a Service Nation, and perhaps save the high street at the same time.