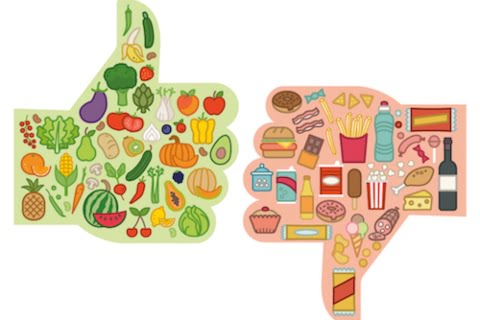 A BBC investigation has found that three of the UK's largest supermarkets are misleading customers when it comes to so-called 'healthier' foods.
BBC Radio 5 Live Investigates found that Tesco, Morrisons and Sainsbury's were all stocking products that had high salt or saturated fat content in sections that were marked as containing healthy options.
For example, Morrisons "heathier choices' section featured a vegetarian steak slice with almost half of the recommended maximum daily amount of saturated fat. The 'healthy and diet meals' section at Tesco contained a lamb hotpot with 45% of the recommended maximum daily amount of saturated fat. A Sainsbury's edamame, coconut and lemongrass falafel, which was in a 'healthier choices' section, contained around a third of the recommended maximum daily amount of saturated fat.
It was a similar story when it came to items containing high levels of salt.
The British Dietetic Association said that stores were being 'unhelpful' and were 'confusing' customers, towards whom they have a 'duty of care', while The Royal Society for Public Health (RSPH) called for clarity, stating: 'Supermarkets should be transparent about how they classify foods, and provide clear information about products. There must be incentives and penalties for presenting clear and accurate information.' The RSPH also raised the possibility of having an independent supermarket regulator.
The campaign group Action on Salt called for supermarkets to implement 'stronger criteria' for products being placed in healthier choice sections.
Tesco said: "We are sorry that some of our products were mistakenly included under the' healthy and Diet Meals' sign and are rectifying this immediately."
Sainsbury's stated: "Our range of healthier meals are currently stocked alongside our vegetarian and plant-based options. In some cases our signs were not updated to reflect this and we are putting this right."
Morrisons said: "Our 'healthier Choices' section provides customers with the option to buy an item that is healthier than a product that meets a similar need. A 'healthier Choices' cheese will be substantially lower in fat than ones we sell elsewhere but might still carry a red traffic light label."
In the latest UK Customer Satisfaction Index (UKCSI), which was published last month by The Institute of Customer Service, Morrisons came bottom of the retail (food) sector, with a score of 79 out of 100, while Sainsbury's was second bottom with a score of 79.6. Tesco scored 80.4. All three supermarkets scored higher than the UK all-sector average of 77.7.