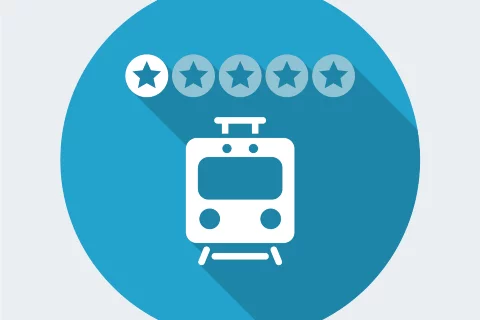 The transport sector remains rooted to the bottom of the latest UK Customer Satisfaction Index (UKCSI), which was published in July of this year by The Institute of Customer Service. A score of 70.8 out of 100 was 1.7 points lower than a year ago, and the transport sector's lowest since July 2009, meaning that the sector languishes at the bottom of the 13 sectors which make up the UKCSI. It is also 6.3 points below the UK all-sector average.
Each mode of transport has seen a fall in customer satisfaction compared to a year previously. Rail/train saw a 2.5 point fall to 68.6, making it the lowest-scoring mode of transport. The coach/bus sector fell by 0.5 points to 68.8, while air was down by 0.9 points to 74.7.
The transport sector is rated lower than the UK average on all five aspects of customer satisfaction: experience, complaint handling, customer ethos, emotional connection and ethics.
Despite the overall fall in customer satisfaction, complaint handling has marginally improved. Satisfaction with 'handling of the complaint' and 'speed of resolving your complaint' increased to the tune of 0.4 and 0.5 points respectively.
Some 21.7% of customers have experienced a problem with an organisation, an increase of 2.1 percentage points compared to a year previously. Transport also generates more problems for customers than any other sector.
Out of 33 organisations, Jet2 topped the pile for customer satisfaction, with a score of 82.0. Brittany Ferries and Thomson Airways (now TUI Airways) were the next highest-rated, with scores of 81.6 and 81.1 respectively.
In a clear indication of the struggles the sector is experiencing, some 20 organisations saw a drop in customer satisfaction of one point or more compared to July 2018. In contrast, only one organisation, Thomson Airways (TUI Airways), improved by at least one point. The highest and lowest rated organisations are separated by a gap of 26.7 points; the biggest of any sector.
The rail/train sector in particular is struggling, as evidenced by the fact that Gatwick Express (79.3) and Heathrow Express (77.4) are the only train operators with a higher level of customer satisfaction than the UK all-sector average of 77.1. All 15 of the train operators that received a UKCSI score in both the July 2019 and July 2018 UKCSI reports had lower customer satisfaction than a year ago.