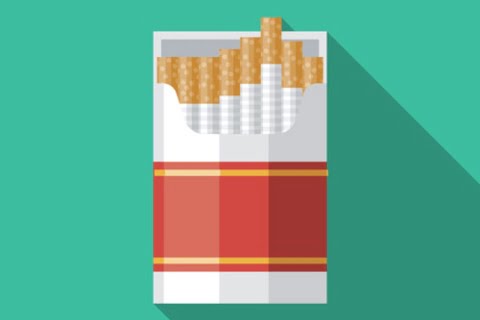 Cigarette giant Philip Morris has been accused of putting profits ahead of the health of its customers, after offering a 25% life insurance discount if smokers switch to its 'heated' tobacco products.
Philip Morris's new insurance brand Reviti, which launched last month, offers smokers a 25% discount on premiums for life cover, provided that they switch to its IQOS heated tobacco device for three months.
This is potentially less harmful than a traditional burned cigarette and means that a customer using a heated device will pose less risk to the insurer.
However, the move has sparked anger given that if smokers switch to Philip Morris's e-cigarette or vape device, the offered discount falls to just 2.5%. Health experts believe that vaping is a less dangerous alternative to heated cigarettes. The discount is also only 2.5% if a customer uses any alternative heated tobacco device by other brands.
Reviti currently offers UK customers a 50% discount, a standard non-smokers' life insurance price cut, if they stop smoking entirely for a year.
Philip Morris claims that the discounts are based on 'robust scientific data', but a number of public health experts told The Mail on Sunday, that it was more likely that the cigarette giant was putting profits above the health of its customers. According to The Mail on Sunday, heated tobacco products earn manufacturers nearly three times as much in comparison to normal cigarettes, while heated tobacco smoking is also more expensive than vaping.
The Royal College of Physicians estimates that using a vaping device poses just 5% of the risk of a traditional cigarette, while Public Health England said that heated tobacco 'may be more harmful than e-cigarettes in a 2018 report. A study by the University of St Andrews also found that heated tobacco had more cancer-causing properties in comparison to e-cigarettes.
Professor Anna Gilmore, Director of the Tobacco Control Research Group at the University of Bath, said: 'The idea that science underpins the far greater reduction in insurance premiums on heated tobacco products than on e-cigarettes is laughable. Despite the lack of evidence on long-term safety, the consensus is e-cigarettes will be considerably safer than heated tobacco products. Most of the science on heated tobacco products has been produced by tobacco companies, one would be foolish to trust it.'
Another expert, Linda Bauld, who is Professor of Public Health at the University of Edinburgh, agreed that safety did not seem to be top of the agenda for Philip Morris: "From a health perspective, it doesn't make sense to offer a greater discount to clients who use heated tobacco than those who use e-cigarettes. We know vaping is far less harmful than smoking, [but] for heated tobacco we are far less sure."
A Philip Morris spokesman said: "It is important to keep in mind that both the qualitative and the quantitative composition of e-cigarette aerosols is greatly variable. This is why the risk profile of e-cigarettes and other non-combustible products must be assessed on a product- specific basis."