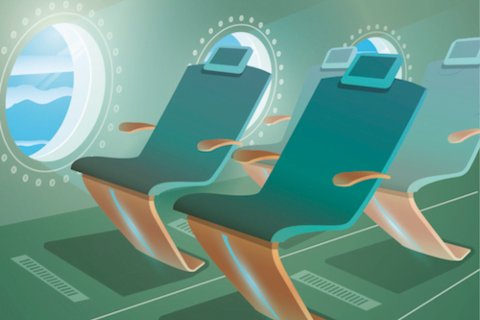 Virgin Atlantic's new Airbus A350-1000, which took flight last month, features upgrades in all three cabins. The new model features a wider and taller cabin, meaning more room for passengers.
In Economy Class, the screens are now 11.6 inches, which is bigger than the old screens in the Upper Class cabin. Passengers can tune into over 100 movies or select from a variety of television shows.
In the Upper Class cabin, passengers have their own private booths with 18.5-inch touch screens that can be controlled using smartphones via Bluetooth. Upper Class passengers can also order on-demand food through the in-flight entertainment systems.
The plane also features a new bar/lounge in the Upper Class cabin called The Loft, where customers can drink and connect to a 32-inch screen via Bluetooth headphones.
In addition to the revamped interior offering, passengers will benefit from better cabin pressurisation and quieter engines, meaning a more comfortable flight.
An innovative tail camera also means that passengers can enjoy a high definition view outside the plane.
The luxury aircraft is currently operating on the route between London Heathrow and New York JFK on a single daily frequency, but Virgin Atlantic plans to expand the route to four times daily by the end of the year.